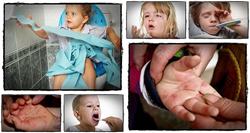 The article introduces to people various types of common childhood diseases that allow them to expand the understanding about health issues effectively. Is it reliable?
Seattle, Wa (PRWEB) December 20, 2013
The new "common childhood diseases" article on the website Vkool.com covers fundamental knowledge about some common conditions and illnesses in the growing child. This article is really ideal for those parents and caretakers who want to improve their children's health without using any kind of drugs or medications. Firstly, the article reveals to people some contagious diseases caused by the spread of bacteria and viruses, including chickenpox, hand-foot-and-mouth disease, and measles. The report indicates that hand, foot, and mouth disease is caused by a various viruses called enteroviruses. This disease can cause a fever with sores or blisters inside sufferers' mouth, and on their palms and soles of their feet. After that, people will learn about whooping cough which is an infection of the respiratory system caused by bacterium Bordetella. This illness mainly impacts infants younger than 6 months old and kids from 11 to 18 years old. The signs and symptoms of whooping cough include runny nose, mild cough, sneezing, and low-grade fever.
Secondly, in this writing, the author uncovers to people general understanding about fifth disease. This illness is also called "slapped cheek" as it can cause a red rash on sufferers' face that looks like a slap mark. It is actually just a viral illness that most children recover from rapidly without complications. "Fifth disease happens everywhere in the world. Outbreaks tend to occur in the late winter and early spring, but there could be sporadic cases of the illness throughout the year," says Shaili Singh, MD, Pediatrician at Temple Towne Center Pediatric Clinic.
Lastly, this article takes people step-by-step through a process of discovering typical symptoms of impetigo and some natural ways to cure it easily. Moreover, the writing supplies people with nutrition tips to eradicate digestive disorders and improve physical health naturally. In other words, the writer recommends parents and caretakers to create a healthy lifestyle in order to prevent their kids from suffering common childhood illnesses efficiently. After this article was launched, a lot of people all over the world can improve their knowledge about childhood diseases and protect their family members' health with ease.
Van Tran from the site Vkool.com says that: "This is an informative report that contains easy-to-understand information about a variety of childhood sicknesses. Furthermore, the tips this article delivers are suitable for most readers regardless of their age and their gender."
If people want to get more detailed information from the full "common childhood diseases" article, they should visit the website: http://vkool.com/common-childhood-diseases/.
_____________
About the author: Mai Pham is the editor of the site Vkool.com. This website provides people with tips to cure cold sores, techniques to prevent diarrhea and other digestive diseases. People could send their feedback to Mai Pham on any digital products via email.