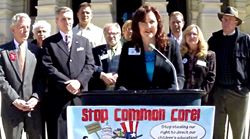 We urge every Georgian to call Gov Deal and say NO to HB 897 and NO to SB 167!
Atlanta, GA (PRWEB) March 10, 2014
Leaders from Georgia's Educational Freedom Coalition (EFC), The Madison Forum, and other prominent citizens held a press conference on the steps of the Georgia State Capitol on Wednesday, March 5, 2014, to highlight Republican Governor Nathan Deal's Common Core legislation, Senate Bill 167 and House Bill 897. Both groups claim their research indicates Governor Deal's legislation will allow the implementation of federally mandated Common Core Standards in all Georgia classrooms.
Rob Cunningham, acting spokesperson for the EFC stated, "Senator Ligon sponsored the 2013 Stop Common Core bill (1) that many parents, teachers, and citizens strongly supported (2). It was crafted to completely withdraw Georgia from all Common Core obligations. We believe both his House and Senate bills are an attempt to rebrand Common Core, while in reality they make these standards permanent." Cunningham emphasized, "We agree with the Atlanta Journal-Constitution's May 15, 2013 assessment that Governor Deal's 2013 Executive Order was simply an attempt to stave off a GOP mutiny. We believe his current 2014 legislation will produce the very GOP mutiny he attempted to avoid."
Speaking from the podium, Dr. Mary Kay Bacallao (3), a tenured Georgia professor with a doctorate degree in education and educational leadership, said, "If we do not stop this legislation now, both the House and Senate versions, I'm afraid our state will lose all academic freedoms for a generation." She continued, "Teachers need to be able to meet the individual needs of their students. They should not be servants of a test. My personal research indicates all meaningful authority will be stripped from teachers and locally elected school boards." Dr. Bacallao continued, "With the currently proposed legislation, my research indicates all educational control and authority will rest with an unelected State Board of Education, under the complete control of one person, the Governor." In closing, she stated, "We are here today to urge Georgia's citizens to say NO to HB 897 and NO to SB 167. I personally met with Governor Deal at his office today and we all had a long discussion with Senator Ligon on Monday. We shared our group's research and belief that passing no bill is a far better option than allowing either of these terribly flawed bills to become law."
Angela Bean, a researcher and member of The Madison Forum, submitted, "My analysis finds that neither of these bills will stop data collection or the sharing of personally identifiable student information with other government agencies or "education institutions" doing business within our state." Mrs. Bean continued, "We are troubled that it is a matter of public record that Governor Deal has received significant campaign contributions from Students First, an influential, public education reform group. Publicly available government records indicate Students First has also provided financial support to many legislators serving on the House and Senate Education Committees. Although not illegal, we believe these contributions pose a serious conflict of interest."
Former Dalton Mayor David Pennington, a 2014 candidate running for Governor against Nathan Deal, remarked, "The current legislation under consideration, specifically HB 897 and Senate Bill 167, gives the federal government entirely too much power to micro-manage our teachers." Furthermore, he said, "The state committee of the Georgia Republican Party passed a unanimous resolution on June 22, 2013, opposing nationalized Common Core Standards and demanded a full withdrawal of all Georgia schools from these standards. If either of Governor Deal's bills (HB897 or SB167) become law and Common Core is integrated more deeply into Georgia's schools, I believe he will have ignored the clear wishes of our citizens."
EFC spokesman, Rob Cunningham, added, "We believe local school control and parent-teacher freedoms will never be possible as long as any copyrights to our school's standards, curricula, or testing methods are owned by organizations outside of the United States." He added, "I ask every politician in Georgia, two simple questions: "Who wrote, and who owns the global copyrights to the Common Core Standards?" Cunningham concluded his remarks with, "The inability or unwillingness of supporters of SB167 and HB897 to answer these fundamental questions should be revealing -- and infuriate every Georgian. We believe that if either of these bills pass, parents might think they can contact their local school board officials with Common Core concerns. But local school boards will not have the authority to change these copyrighted standards or tests."
About Educational Freedom Coalition
The Educational Freedom Coalition is a non-profit, Georgia based advocacy group that provides extensive research and support for teachers, students, parents and legislators that are interested in maintaining maximum local control over the educational process.
About The Madison Forum
The Madison Forum is a non-partisan organization and open to Republicans, Democrats, Independents, and everyone in between who are interested in rational, thoughtful debate and discussion regarding the issues of the day. Our goal is to promote good government based on conservative principles with a foundation based on facts and in truth.
For more information:
Visit: http://www.breitbart.com/Big-Government/2014/03/06/How-States-And-School-Districts-Can-Opt-Out-of-the-Common-Core-Standards
Visit: truthinamericaneducation.com/common-core-state-standards/building-machine-film-common-core/
Visit: truthinamericaneducation.com/common-core-state-standards/common-core-opponents-rally-in-georgia/
Visit: educationalfreedomcoalition.com/press-release/
"8 out of 10 parents, when asked to describe Common Core, respond with, "Common Who?"
-- Mark Wohlers, Atlanta Braves World Series Champion
Footnotes
(1) - Sen. William Ligon Opposing Common Core - onlineathens.com/opinion/2013-05-07/ligon-common-core-sacrifices-sovereignty
(2) - Open Letter to Gov. Deal - georgia.stopcommoncore.com/uploads/Open_Letter_to_Gov._Deal-_Common_Core.pdf
(3) - Dr. Mary Kay Bacallao - marykaybacallao.jimdo.com
(4) - Rob Cunningham - patriotjournalist.com/CommonCore.php