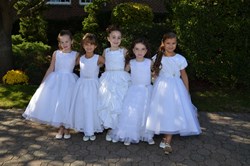 If It's Not A Sweetie Pie, It's Just A Dress
Whitestone, NY (PRWEB) November 22, 2013
This weekend from Friday 11/22/13 through Sunday 11/24/13 the first Sweetie Pie Collection communion dress trunk show of the season will be taking place. The trunk show is being held at Carina Boutique at 11-24 154th Street in Whitestone, NY 11357. It will include 15 beautiful white communion dresses, and 9 silk couture communion dresses. The 15 white communion dresses on display are styles 441, 443, 439, 444, 450, 460, 462, 464, 465, 469, 470, 472, 473, 474, and 475. The 9 couture communion dresses on display will be styles Garnet, Ruby, Citrine, Emerald, Crystal, Sapphire, Amber, Diamond, and Opal. These communion dresses are all either proven carryover dresses that have been on the line for multiple years and are among the most popular Sweetie Pie dresses, or they are brand new 2014 communion dresses that have had a great reception from stores across New York, the entire United States, the United Kingdom, and Europe.
For more information about the communion dress trunk show, Carina Boutique can be contacted directly at (718) 357-3488. All of the communion dresses in the trunk show, plus the rest of the Sweetie Pie Collection line can also be viewed at http://www.SweetiePieCollection.com.
Carina Boutique is the place to visit for the early shopper trying to get a head start before the crazy rush of communion shoppers start to rush into stores in December and January. It is always better to get a head start on shopping for a communion dress to ensure the perfect dress is available and to have a completely stress free shopping experience. Sweetie Pie Collection is also the only communion dress designer that offers every single style as a plus size communion dress. This makes it so even a girl, who wears plus sizes, can choose any dress on the Sweetie Pie Collection line and get it in a size that will fit. These plus size communion dresses are all available at Carina Boutique by special order.
This is the best chance available to see these dresses in person to get the best idea of the look and feel of each dress. Don't miss out on this opportunity; check out Carina Boutique while these dresses are still available.