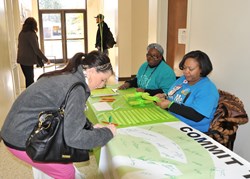 Rocky Mount, NC (PRWEB) January 08, 2014
A simple signature has become the linchpin of a program that Edgecombe Community College hopes will keep students focused on their final prize – completion of their college goal.
Edgecombe began the Community College Completion Corps program, or C4 for short, on Jan. 6, the first of two final days of registration for the spring semester. Spring classes began Wednesday, Jan. 8.
"It's a simple idea, really," says Samanthia Phillips, dean of students. "We are asking students to take a vow in front of other students to complete their education. They are signing a banner declaring their intention to finish. Studies show that if you declare your goals in front of others, the likelihood of seeing it through is much greater."
The idea for Edgecombe to implement the C4 program came from Nina Sinclair, an ECC criminal justice student. In 2013, the Phi Theta Kappa honor society launched a nationwide initiative for students to complete their degrees.
Sinclair, President of the Phi Theta Kappa chapter at Edgecombe Community College, pitched the C4 idea to ECC President Dr. Deborah Lamm in October.
"Dr. Lamm said, 'I love it. Let's do it,'" Sinclair says. "Everyone jumped on board right away."
Sinclair signed her pledge last summer during a Phi Theta Kappa conference. Now she wants her fellow students at Edgecombe to follow suit.
"It makes you want to push yourself because you don't want to break that promise," she says. "You'll have the support of the faculty, staff, and students – your peers. We've got your back. We'll push you."
Edgecombe staff will monitor the progress of those who sign the pledge. If any students fall behind, the college will step in to see what kind of help they need to fulfill the promise, Phillips says.
In addition to individual pledges, students also can sign banners that will be displayed on campus and smaller pieces of paper that organizers will use to create a chain that also will be displayed to show solidarity.
"I'm excited," Sinclair says. "I think it will make a really good impact on the school."
The pledge-signing took place Jan. 6 and 7 at both the Tarboro and Rocky Mount campuses.
Organizers say they aren't going to stop with this two-day blitz to get signatures. "We want to make this part of future events," Phillips says. "We want to thread this initiative throughout the year."
Sinclair holds a bachelor's degree in accounting from Temple University. She is the second of 19 grandchildren to attend college. A native of Philadelphia, she moved with her daughter and husband, a Rocky Mount native, to Rocky Mount. She enrolled at ECC in the fall of 2011.
"I fell in love with the school right away," she says. After she graduates in May with a degree in criminal justice, she plans to take basic law enforcement training at the college in the fall before she begins working for the Department of Homeland Security.
A cancer survivor, Sinclair says that even chemotherapy treatments couldn't keep her out of class. She hopes her "never give up" attitude and the C4 program will help future Edgecombe Community College students reach their aspirations as well.
"A lot of students have come up to me and thanked me for encouraging them," Sinclair says. "I believe the C4 program is going to make a difference."
About the company:
Steady growth and expanding impact have characterized Edgecombe Community College as it has evolved from one small building in 1968 into a multi-campus institution with campuses in Tarboro and Rocky Mount, North Carolina. The college helped meet the educational and training needs of about 13,000 individuals in our community last year. This included the implementation of distance learning and online courses to reach students with travel and time barriers. Throughout, their strength is and will remain putting the needs of students first.