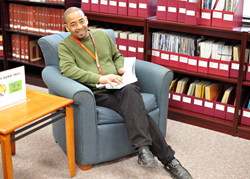 'Edgecombe does a great job providing for older students,' says human services student Joe Collins.
Rocky Mount, NC (PRWEB) February 25, 2014
Edgecombe Community College has been chosen to join the Plus 50 Encore Completion Program, a national effort to train 10,000 baby boomers for new jobs in health care, education and social services. The program is sponsored by the American Association of Community Colleges (AACC).
Edgecombe will assist adults ages 50 and up in completing programs in high-demand occupations that give back to the community. With many older adults out of work or seeking to transition to a new career, the program offers skill updates and career makeovers for baby boomers.
Joe Collins, 54, enrolled at ECC several years ago to begin studying toward a second career. A retired command sergeant major, he spent much of his Army career leading a battalion in the Middle East. It was an experience upon his return to his hometown of Tarboro, however, that challenged and changed his life. For four years, he was the primary caretaker of his gravely ill mother, providing 24/7 care for her in her home until her death.
"Once she passed, I went back to school," Collins said.
His goal now? Social work.
"Social workers are the most misunderstood, under-valued workers in our society today," said Collins. "I've always tried to give back, and I want to start now by helping others in my community."
Collins will graduate from ECC in May with an associate degree in human services, and he plans to enter East Carolina University in the fall to pursue a bachelor's degree in social work.
"Edgecombe has been a safe haven for me," Collins said. "Staff and faculty took the time – one-on-one – to help me get up to speed with new technology. As an older student, that was my biggest challenge. The college made me feel like I had a home. If you're not successful here, it's because you didn't try. I've seen it with my own eyes, so there's no excuse."
Adults ages 50 and up have accounted for nearly 12 percent of Edgecombe graduates over the last five years, according to Michael Jordan, vice president of student services.
"The Plus 50 Initiative grant will augment workforce training programs and support activities, workshops, specialized courses and seminars, and counseling and career planning to ensure the success of older students," Jordan said. "Older students are among our best students, and we are very excited to be able to offer customized services, like a computer skills boot camp, to this special group."
Edgecombe is one of 38 community colleges nationwide joining 62 colleges previously selected. Through the Plus 50 grant, Edgecombe will receive $15,000 during a two-year period.
According to the AACC, the Plus 50 Initiative is working. Eighty-nine percent of students participating in Plus 50 report that college workforce training helped them acquire new job skills, and 72 percent attributed landing a job to the training.
"Baby boomers who are out of work or want to transition into new career fields need to update their skills," said Mary Sue Vickers, director for the Plus 50 Initiative at AACC. "Community colleges are affordable and are working to help baby boomers, even if they've never stepped on a college campus before."
The Plus 50 Encore Completion Program is funded with a $3.2 million grant to AACC by Deerbrook Charitable Trust.
About the company:
Steady growth and expanding impact have characterized Edgecombe Community College as it has evolved from one small building in 1968 into a multi-campus institution with campuses in Tarboro and Rocky Mount, North Carolina. The college helped meet the educational and training needs of about 13,000 individuals in the community last year. This included the implementation of distance learning and online courses to reach students with travel and time barriers. Throughout, their strength is and will remain putting the needs of students first. For more information, visit http://www.edgecombe.edu/.