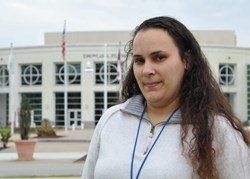 ECC student Kelly Miller, who spent eight years in the Army, is one of 15 national winners of the Army Women's Foundation Legacy Scholarship.
Rocky Mount, NC (PRWEB) November 18, 2013
For the fourth consecutive year, Edgecombe Community College in Tarboro, NC, has been selected as one of the top military friendly schools in the country by Victory Media.
This year, the college also was named to a similar list by Military Advanced Education magazine.
The organizations incorporate studies and surveys from thousands of schools nationwide, as well as veteran student surveys.
"It's an honor," says Jackie Heath, the college's veterans coordinator in the Office of Student Services. "I believe it's the way we work with veterans and make services and opportunities available to them."
Earlier this year, Kelly Miller went to Heath for advice. Miller, an Army veteran and one of about 200 ECC students who are former military, was looking for financial assistance to continue her college career.
Heath steered her toward an Army Women's Foundation Legacy Scholarship. Miller applied for the scholarship and eventually received $1,000 from the organization, becoming one of 15 national winners.
"Ms. Heath has been extremely helpful – especially with the scholarship," Miller says. "She also helped set up appointments with the VA."
Miller, who spent eight years in the Army, including one tour in Iraq, relocated from her home in Tampa, Florida, in 2009 to Eastern North Carolina after an earlier visit to Conetoe with her military roommate.
She began classes in 2010 at Edgecombe Community College, and she plans to graduate with an associate's degree in criminal justice at the end of this year. While a student, Miller has attended the college's Veterans Day ceremonies held annually on the Tarboro campus.
Heath says the Veterans Day event is just one way the college makes former military feel welcome. She and Teresa Bottoms, financial aid advisor/veterans affairs, advise students about grades and bring in experts to talk about veteran issues.
"We also get them in-depth counseling from the NC Vet Center in Greenville if they need it," Heath says. "We follow up with veterans all the time. Also, we recently formed a Veterans Student Association, and it's already become a very active group."
In October, club members volunteered at the Pitt County Stand-Down, an event in Greenville that focuses on helping homeless veterans.
Miller says she believes future veteran students are in good hands if they choose to attend Edgecombe Community College.
"I think they do an outstanding job, especially at helping veterans readjust," Miller says. "I can definitely see why they're deserving of the distinction of being named a military friendly school."
About the company:
Steady growth and expanding impact have characterized Edgecombe Community College as it has evolved from one small building in 1968 into a multi-campus institution with campuses in Tarboro and Rocky Mount, North Carolina. The college helped meet the educational and training needs of about 13,000 individuals in our community last year. This included the implementation of distance learning and online courses to reach students with travel and time barriers. Throughout, their strength is and will remain putting the needs of students first.