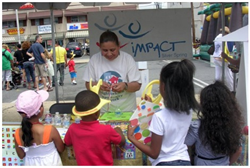 By working to support IMPACT Silver Spring, our goal is to strengthen our community by providing the resources necessary to celebrate our shared values between mixed culture and mixed income groups
Silver Spring, MD (PRWEB) July 13, 2017
The Portee Insurance Agency, a DC area provider of insurance management and financial planning services, is working in conjunction with the IMPACT Silver Spring organization in a charity event to build cross cultural civic action coalitions throughout the region.
The mission of IMPACT Silver Spring is to create community-based networks and diverse spaces where organizations and individuals can step over lines of difference to forge meaningful social and civic connections. IMPACT has already established a network of hundreds of noteworthy groups, organizations, and DC area residents.
"By working to support IMPACT Silver Spring, our goal is to strengthen our community by providing the resources necessary to celebrate our shared values between mixed culture and mixed income groups," says Ralph Portee, founder and executive director of the Portee Insurance Agency.
Online channels have proven especially useful in galvanizing community support during the IMPACT Silver Spring charity drive, and the Portee Insurance team is actively sharing information with supporters over email and social media platforms. Further information on the event will be shared in a soon to be published article set for release in a new edition of "Our Hometown," a local interest webzine hosted by the Portee Insurance Agency: http://www.porteeinsurance.com/Our-Hometown-Magazine_41.
A large number of nonprofit organizations and charitable foundations in Maryland and DC have received assistance from the Portee Agency during their many charity campaigns over the last few years. The Portee Agency is an active participant in the "Agents of Change" charity assistance coalition, and plans to continue supporting regional charities regularly.
For readers seeking more information on the work being done by IMPACT Silver Springs, and for those who wish to be involved in the ongoing charity event, the Portee Insurance Agency has made the following page available: http://www.porteeinsurance.com/Together-We-Can-Have-a-Positive-IMPACT-_25_community_cause. All charity campaigns undertaken by the Portee Insurance Agency team in the past are cataloged in the firm's Community Causes archive: http://www.porteeinsurance.com/community-cause?page=1.
About the Portee Insurance Agency
A full service firm serving families from two locations in Silver Spring, MD, Ralph Portee and his team of caring professionals have one simple mission: to provide the best insurance and financial services in the industry while maintaining consistently superior service. Their focus is to protect all the things which are most important to their clients (their families, homes, cars, and more) and to help them develop strategies for long-term financial success and security. The dedicated agents at Portee Insurance may be reached by visiting http://www.porteeinsurance.com/ or calling (301) 587-0196.