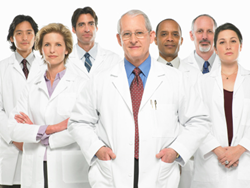 Seattle, WA (PRWEB) June 12, 2014
Choosing a new provider is a process that most people dread. The process of calling the insurance company, getting referrals, and actually meeting a new provider can be exhausting and confusing. CHC has made it easy for people in need of a new provider to navigate the process and make an informed choice by releasing an article to guide them through the maze.
The article starts by advising patients to seek the referrals of prior providers or friends and family members that they trust.
"One of the best ways to find a new provider is by listening to the positive feedback of someone that's formed a close working relationship with their primary care provider," they say.
Next, patients need to call their insurance company to verify whether or not the providers they've found are covered within the network of their health plan. This step protects members from going to see a doctor that is not within their health plan network and subsequently being hit with an enormous bill.
Another important thing to consider is the location of the clinic. Patients should think about if they want a clinic close to their home, work or kids' school. Fortunately, CHC has 5 locations conveniently located throughout Snohomish County. Patients can choose the location nearest to them, or most conveniently located to work or their children's school.
The article goes on to advise calling medical clinics to ask questions about the facility and the provider, and then recommends tips on how to approach the first visit. They encourage taking notes and paying close attention to the words and behavior of the provider. The article discusses what to bring along on a first time visit, such as any prescriptions or supplements that you take, including over-the-counter drugs and daily multi-vitamins.
"Invest effort into obtaining one of the most important tools to maintaining a healthy life—a provider you can trust!" CHC concludes.
Community Health Center of Snohomish County is a non-profit primary health care facility; providing medical, dental and pharmacy services to more than 37,000 Snohomish County residents. CHC operates out of five clinics in Arlington, Edmonds, Everett-North, Everett-South and Lynnwood. CHC opened its doors in 1983 to serve the uninsured and underserved populations in Snohomish County and they continue to do that today. CHC provides care to those who are uninsured and those on private, State or Federal health plans.
For more information contact:
Mallory Lisk
Community Relations Manager
Community Health Center of Snohomish County
425.789.3720
8609 Evergreen Way
Everett, WA 98208