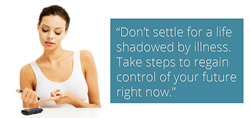 Over time, untreated or poorly treated diabetes will result in more severe side effects.
Everett, WA (PRWEB) August 18, 2014
"Diabetes is blind to age, race, color, and walk of life," warns Community Health Center of Snohomish in a recent article. "In the last decade, the number of Americans suffering from diabetes have increased dramatically, jumping more than 40 percent. This amounts to a current total of almost 26 million Americans."
Their article, "The Danger of Diabetes" seeks to educate the local population about the perils of untreated and undiagnosed diabetes. They state that, while many people are familiar with the name of the disease, few people understand how it afflicts people and how to recognize the symptoms. If the disease is not caught in it's early stages and treated properly, it can lead to more serious complications in the future.
Those who have diabetes but are not currently receiving adequate treatment may contact the health center: http://www.chcsno.org/services/Diabetes.ashx?p=1111
"Over time, untreated or poorly treated diabetes will result in more severe side effects. This can include damage to the nerves, the blood vessels of the eyes, the kidneys, and the heart, and increased risk of atherosclerosis, heart attack, and stroke," their medical experts explain.
The article emphasizes the importance of finding a good doctor that will be able to provide appropriate treatment, monitor the patient's health on a regular basis, and provide advice for dietary and lifestyle changes.
They state that those patients that take the necessary steps toward achieving a healthier lifestyle will see dramatic reduction in their symptoms and slow the progression of the disease.
They advise, "If you are suffering from diabetes, or you have a loved one that you suspect of having developed the disease, it is imperative that you seek out treatment from a good doctor immediately. With proper treatment, diet adjustments, exercise, and lifestyle changes, diabetes can be controlled, allowing you to continue living life to the fullest."
About Community Health Center of Snohomish County
Community Health Center of Snohomish County (CHC) is a non-profit primary health care facility; providing medical, dental and pharmacy services to more than 37,000 Snohomish County residents. CHC operates out of five clinics in Arlington, Edmonds, Everett-North, Everett-South and Lynnwood. CHC opened its doors in 1983 to serve the uninsured and underserved populations in Snohomish County and they continue to do that today. CHC provides care to those who are uninsured and those on private, State or Federal health plans.
For more information contact:
Mallory Lisk
Community Relations Manager
Community Health Center of Snohomish County
425.789.3720
8609 Evergreen Way
Everett, WA 98208