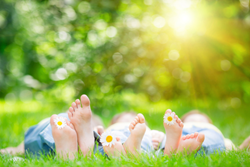 Spring is the time to clean scrub, sweep, and dust — shouldn't you be focusing on cleaning out your body as well?
Everett, WA (PRWEB) April 13, 2015
Community Health Center of Snohomish County (CHC) has many tricks and tips for those seeking to use these warm days and invigorating spring weather to their advantage. Getting healthier in spring can be a synch for those who follow good advice, and Community Health Center of Snohomish County's latest article is full fantastic recommendations.
This article provides tips on three vital areas of health: good diet, regular exercise, and a yearly routine exam with a family care provider. For each important area, many suggestions are given for how families can improve.
CHC begins by providing information on how to use this season to fit in good exercise. Ideas for this are gardening, park games, such as frisbee and tennis, and joining fitness classes with friends.
Following this, the article provides a brief list of seasonal fruits and veggies that can be easily incorporated into any diet for better nutrition. Seasonal fruits and veggies are delicious, and they are often sourced from local farmland.
Finally, CHC talks about the importance of monitoring health and wellness through routine annual visits to a family care provider.
"Everyone knows that spring is the time when everything gets a good scrubbing or shining. Shouldn't it be the same with your body?" they ask.
Routine physicals conducted by a family care provider can monitor health, and detect any signs of developing illnesses before they become severe.
To learn more about Community Health Center of Snohomish County or schedule an appointment with one of their health care providers, click here.
About Community Health Center of Snohomish County:
Community Health Center of Snohomish County (CHC) is a non-profit primary health care facility; providing medical, dental and pharmacy services to more than 37,000 Snohomish County residents. CHC operates out of five clinics in Arlington, Edmonds, Everett-North, Everett-South and Lynnwood. CHC opened its doors in 1983 to serve the uninsured and underserved populations in Snohomish County and they continue to do that today. CHC provides care to those who are uninsured and those on private, State or Federal health plans.
Community Health Center of Snohomish County
425.789.3720
8609 Evergreen Way
Everett, WA 98208