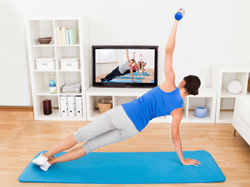 Keeping your family fit in winter can be difficult, but it is important to maintaining good health.
Everett, WA (PRWEB) March 03, 2015
After the holiday season, many families are renewing their dedication to a lifestyle of fitness and exercise. Community Health Center of Snohomish County (CHC) recently released an article presenting 6 ways that families in Everett, Marysville, and the entire Snohomish County can keep fit during the winter months.
CHC says, "While it's relatively simple to trade mac n' cheese for grilled chicken and steamed veggies, many families wonder how to keep exercise fun and exciting during the winter season in the Pacific Northwest."
Among their list of recommendations are fitness classes, which can be age appropriate for every member of the family. In many cases, parents can bring their children with them to fitness classes, making it a fun family activity.
Also, the article mentions purchasing indoor exercise equipment if frequent trips to the gym or the cost of a gym membership isn't feasible. An initial investment can save money in the long run and keep a whole family healthy at the same time.
The article also mentions that, "After a good snowfall, the passes are ready for snow sports and other snow-related activities. Even small children can learn to snow ski right alongside their parents, and the whole family can enjoy a day on the slopes."
CHC is committed to helping families pursue a lifestyle of health and fitness. To learn more about their family medicine services, visit their website: http://www.chcsno.org/
The article concludes, saying, "These six types of exercise will keep you out of the drizzly weather, while creating an exciting way for every age to pursue a lifestyle of fitness and exercise."
About Community Health Center of Snohomish County:
Community Health Center of Snohomish County (CHC) is a non-profit primary health care facility; providing medical, dental and pharmacy services to more than 37,000 Snohomish County residents. CHC operates out of five clinics in Arlington, Edmonds, Everett-North, Everett-South and Lynnwood. CHC opened its doors in 1983 to serve the uninsured and underserved populations in Snohomish County and they continue to do that today. CHC provides care to those who are uninsured and those on private, State or Federal health plans.
For more information contact:
Mallory Lisk
Community Relations Manager
425.789.3720
8609 Evergreen Way
Everett, WA 98208