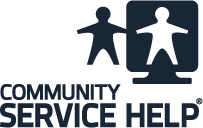 This process of self-education creates a long-term, positive influence in the community
Miami, FL (PRWEB) October 18, 2013
Across the United States, community service has long been used as a way to rehabilitate those convicted of minor crimes. And, although there is no disputing the benefit of these programs, Community Service Help believes addressing the direct correlation between crime and education is a better way to help both the probationers and the communities they live in long term. The organization, which matches people obligated to complete community service with charities that accept online volunteers, is offering discounts off their fees for the handicapped and disabled to allow them to fulfill service hours through self-education online.
Some crimes like minor traffic offenses come with hefty fines that most people can work off with court ordered community service. But, disabled and handicapped offenders are rarely able to take advantage of these opportunities, putting them in a position of almost discriminatory unfairness. Community Service Help was founded on the premise that educational programs are more effective in helping to rehabilitate offenders than traditional community service assignments. They believe that with greater education, offenders are more likely to make positive contributions to their communities in the future. Their financial assistance for disabled and handicapped offenders supports this.
Community Service Help's programs provide courts with a positive outlet for their disabled and handicapped probationers to complete their community service. The charities affiliated with Community Service Help use education to facilitate their community service programs. Once matched, probationers are required to spend time educating themselves. When their required hours are complete, the non-profit partner provides written verification of completion for the court, lawyer, probation officer or sponsor so volunteers obtain credit.
"This process of self-education creates a long-term, positive influence in the community," said a spokesperson for Community Service Help. "Education is the key to your future and the success of our world."
"Community Service Help has actually saved me, literally," said one volunteer. "I am disabled and cannot drive. With all of my health issues, this was the only way for me to complete my community service. I don't know what I would have done had I not found this organization."
About Community Service Help
Community Service Help advocates education as an alternative to traditional court ordered community service. Through their online program, offenders have logged more than 825,000 hours of self-scheduled schooling that allows them to remain employed while completing their community service hours. Community Service Help believes that addressing the direct correlation between crime and education is a more effective tool for rehabilitating offenders than traditional community service assignments. For more information on the discount program for the disabled, please visit http://www.communityservicehelp.com