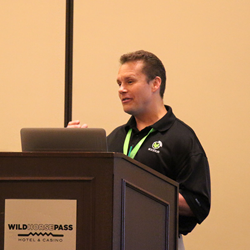 Association leaders understand that they have a wealth of behavioral data inside their private online member communities.
Gilbert, AZ (PRWEB) July 29, 2015
Socious co-founder, Paul Schneider, will speak on a panel of online community experts at the ASAE Annual Meeting in Detroit, Michigan on August 9th.
The panel discussion will address how associations are successfully using online community software platforms to increase member engagement, improve the value of their membership, and generate non-dues revenue.
Schneider will also highlight social community strategies that are on the horizon for membership organizations. Socious works with organizations ranging from Fortune 200 companies to large associations. The session will leverage that experience to identify areas where association executives may want to focus over the next 18 months.
"Association leaders understand that they have a wealth of behavioral data inside their private online member communities. I'm looking forward to discussing how they're integrating social data into everyday business decisions," said Schneider. Socious is a leader in not only helping organizations create active, sustainable online customer and member communities, but also using that increased engagement to grow their organizations.
He continued, "Associations that run their communities on our platform are not only scaling their member engagement efforts, but also leveraging the social data of individual members to increase retention and revenue."
Socious is one of only a few companies that provides an online member community solution specifically for associations and nonprofit membership organizations.
"We're heavily invested in the success of our customers. We've made a significant effort to shape our products, processes, and people around building online communities that outperform other member engagement channels," said Scott Balthazor, president and co-founder of Socious.
Socious is the only online community software company for associations that also provides the people to help plan your community strategy, set up community management processes, and grow member engagement in your online community.
The 2015 ASAE Annual Meeting & Exposition will host over 5,000 association executives from around the United States at the Cobo Center in Detroit, Michigan from August 8-11, 2015.
About Socious
Founded in 2002, Socious (socious.com) offers the world's most complete online community software to businesses, associations, and user groups. The Socious platform manages over 1.3 million customers for many of the world's top companies and membership organizations. Socious's peer-to-peer community software includes private social networking, customer communication tools, discussion forums, membership management, collaboration tools, and integration with other major platforms to help organizations increase revenue, retention, and member engagement. Socious provides a full range of professional services to help organizations plan, launch, and manage their online community. Take an online tour of Socious online community software.
###