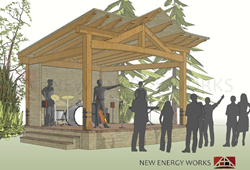 This raising is both a nod to the traditional and a way of engaging the community members to make this stage their own.
McMinnville, OR (PRWEB) July 31, 2015
New Energy Works Timberframers invites the public to join their timber frame hand-raising of the Granary District Stage Amphitheater in McMinnville, Oregon August 15th, 2015 from 9am – 12pm. Timber frame raisings are special, celebrating both craft and shelter. This is an exciting and important day for the entire community as the culmination of months of effort, planning, fundraising, and dreaming takes shape.
"There's something special about a project that is a total community effort," says New Energy Works President, Jonathan Orpin, "Up until a hundred or so years ago, all frames were raised by hand, so this raising is both a nod to the traditional and a way of engaging the community members to make this stage their own."
Timber framing is a traditional form of building structures of heavy timber jointed together with pegged mortise and tenon joints. The craft is sought after not only for its aesthetic, but also for the longevity and efficiency it provides over more common structures. Local businesses, organizations, friends, and neighbors are invited to join in the building of the Granary Amphitheater, followed later in the day by the Third Annual Walnut City Music Festival.
"By working with other businesses and community members to build the Granary District Stage Amphitheater, we are proving a much nicer venue for existing and future events. Currently, a temporary stage with a rented tent is set up for events. The new stage not only provides a more permanent venue, but the quality of the architecture and construction represents the higher standard that our community embodies," says Kelly McDonald of the Granary District.
The Granary District in McMinnville, Oregon is a redevelopment effort that began in 2000 by Kelly McDonald. A former heavy industrial site situated in close proximity to downtown, the uses became obsolete and many buildings were vacated. Over a 15-year period, 4.5 acres of property and 7 buildings have been rezoned into commercial/light industrial mixed-use planned development. Small production wineries with tasting rooms, a day spa, a fitness studio, a brewpub, and numerous retail shops make up a unique blend of spaces on the site. The Granary District also serves as a public venue for many seasonal community events with its wide-open spaces; events include Oregon Brews & BBQs, Flix on the Tin, The Walnut City Music Festival, and more.
"The Granary District provides this space free of charge, and we are happy to," says McDonald. "It's one of the many ways we can give back to our community." Events held at McMinnville's Historic Granary District benefit many nonprofit organizations such as Habitat for Humanity, The Henderson House, See'ya Later Foundation, and Willamette Valley Medical Center. Whether you're planning a home, designing for a business, curious about the use of timber as structure, or interested in heavy timber as a sustainable construction method, this is an event worth seeing.
New Energy Works Timberframers have been designing and building environmentally responsible timber frames across the USA for more than 30 years from their facilities in Oregon and New York. Offerings include: Timber Framing (design, engineering, manufacturing, build), Enclosure Systems, Fine Woodworking, and Recycled and Sustainable wood products. New Energy Works has two LEED AP staff members, is a member of the US Green Building Council, and is FSC Certified.