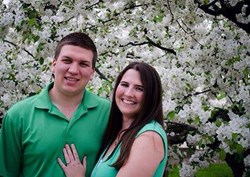 Even though we live together we switch off on what we're each responsible for paying.
Farmington Hills, MI (PRWEB) February 13, 2014
Team members at Community Choice Credit Union know that Valentine's Day isn't all roses and flowers for couples deciding whether or not to have combined or joint finances. Emily Disbrow and Aaron Balowski, of East Lansing, Michigan, are having that discussion now – they are getting married in March.
"Right now we live together and alternate what bills we each pay," said Disbrow. "One month I'll take care of the groceries and Aaron will take care of the utilities, the next month we'll switch. That has worked for us so far, but we wonder if our future marriage would benefit from joining finances more closely. Since our families have had a bad experience with a creditor, we're a little uneasy about completely joining our finances."
Rachel Kamish and Mark Moss, of Solon, Ohio, are getting married in July. The couple plans to keep separate bank accounts even though they view every decision as if they have a joint account.
"Between the two of us, I take the lead when it comes to planning our finances and making purchasing decisions," said Kamish. "I think it's natural for one person in every relationship to be more hands-on with finances. I've had more experience growing up making financial decisions so I've taken the lead in our relationship."
These couples' situations are quite common. Community Choice recommends considering the following points when discussing the option of joint finances:
1. Are you happy with your current financial strategy?
2. Is one partner's credit significantly different than the other?
3. Does one partner have more financial savvy?
4. If your partner takes the lead, can you trust him/her to keep you informed and seek your input on major decisions?
5. Do your money management styles differ greatly?
As these questions are answered, the pros and cons of joint or separate finances will be revealed. Some positives of a joint account include easy access to money and transparency that can lead to improved spending habits. Some downfalls to joint finances include the negative effects of poor credit and tension that can occur when money management styles differ.
Whatever decision couples make this Valentine's Day, or any time of year, Community Choice Credit Union urges everyone to be informed. If you are uncertain about what the best move is for you, ask your financial institution or financial planner for advice.
About Community Choice Credit Union: Established in 1935, Community Choice Credit Union offers a wide variety of financial products and services for both consumers and businesses. Any individual who lives, works, or worships in the following counties is eligible to become a member of Community Choice Credit Union: Genesee, Lapeer, Livingston, Macomb, Oakland, St. Clair, Washtenaw or Wayne County, Michigan. Since 2008, Community Choice has invested more than $751,285 dollars and 10,961 volunteer hours into its charitable Give Big efforts throughout Michigan. For more information, visit CommunityChoiceCU.com.
# # #