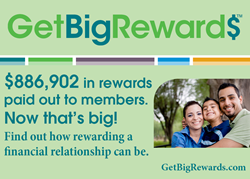 The GetBigReward$ program is designed to reward members who actively use Community Choice products and services.
(PRWEB) February 27, 2014
Community Choice Credit Union announced today that it has awarded $886,902 to members as part of the first payout through its new member rewards program. The rewards program, called GetBigReward$, was introduced on June 1, 2013 and provides monthly credits and a loan interest rebate to qualified members. Any credits not utilized in 2013 were deposited into member accounts.
"The GetBigReward$ program is designed to reward members who actively use Community Choice products and services," said Tracy Cameron, VP of Retail. "We are very pleased to have provided $886,902 in rewards. With members receiving as much as $630.77 for their 2013 participation, this is an opportunity to pay off holiday debt or plan a summer vacation with their families."
Members who are active with various Community Choice products and services can reach top Emerald and Gold levels of membership. These members make Community Choice their primary financial institution and as such, they are rewarded. Each month Emerald and Gold level members receive credits to their GetBigReward$ account. Throughout the year the credits are used to offset or eliminate overdraft and other fees. At the conclusion of the year, any credits not utilized are deposited into member share (savings) accounts. Additionally, Emerald level members receive a loan interest rebate as high as 10 percent of the total interest paid on eligible loans.
The top three amounts paid to members for their 2013 participation in the rewards program include: $630.77, $550.45 and $534.27. Community Choice expects to award well above $1 million in rewards in 2014.
The payout from Community Choice comes at a time when banks are facing public scrutiny. According to a CNBC report in December, a record $40 billion was paid out in 2013 by banks via fines and settlements to U.S. regulators. The article indicates the main causes of the fines and settlements were rigged interest rates, inappropriate sales of U.S. mortgage bonds and transactions which assumed too much risk.
In addition to questionable ethical decisions, many banks continue to have higher loan rates and lower interest rates than credit unions. According to CULinkMichigan.com, credit union loan rates are on average 1 percent lower than bank rates. This means on average a credit union member saves $100 in interest for every $10,000 borrowed from a credit union.
About Community Choice Credit Union:
Established in 1935, Community Choice Credit Union offers a wide variety of financial products and services for both consumers and businesses. Any individual who lives, works, or worships in the following counties is eligible to become a member of Community Choice Credit Union: Genesee, Lapeer, Livingston, Macomb, Oakland, St. Clair, Washtenaw or Wayne County, Michigan. Since 2008, Community Choice has invested more $748,742 dollars and 10, 727 volunteer hours into its charitable Give Big efforts throughout Michigan. For more information, visit CommunityChoiceCU.com.