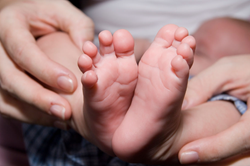 The day you arrive home from your baby shower it hits you that this little person is coming and they are taking over the house.
Farmington Hills, Michigan (PRWEB) March 31, 2014
Whether you have just decided to start a family or you're already expecting your first child, budgeting for all of the costs that come with having a baby is key. How much could such a sweet, tiny person really cost you might ask? We're not just talking about delivery. Once your bundle of joy has arrived, the expenses that go along with raising a child begin immediately.
When it comes to all of the baby gear, think about what you will really need vs. what is the latest, trendy gadget that you will barely use, if ever. Some couples may enjoy creating the gift registry together, but it's also practical to go with a friend at some point who has had children so they can help guide you as to what you really need. You want to register for the the most essential items, rather than things that will sit around and collect dust.
One thing is for sure, the day you arrive home from your baby shower it hits you that this little person is coming and they are taking over the house! There are certain things that you don't need for a newborn, but will need later on as the months progress. It's not even necessary to have the nursery fully completed by the time the baby is born since a newborn will most likely be rooming with the parents for a period of time anyway. Don't stress! Baby won't hold it against you if the nursery isn't ready for their debut.
Rather than register for too much clothing, Mom 2 Mom sales and resale shops are a great place to find gently used baby clothing since they grow out of them so quickly. Hand-me-downs from friends and family also help to cut down the expense of clothing. Stock up on some sleepers, onesies, hats, booties and socks, as well as outfits for warm and cold temps. You'll need several in a variety of sizes. Visitors will often bring welcome home gifts of clothing when they come to meet baby.
Here are some other financial tips to keep in mind when planning for baby:
Maternity leave - Depending on whether leave is paid or unpaid and at what percentage, factor in for any decrease in monthly income.
Health insurance - Determine which policy baby will be added on if parents have separate ones and be sure to add them within 30 days from birth.
Feeding - Whichever you choose, there are costs associated with both breastfeeding and formula, so be sure to do your research and plan accordingly.
Diapering - The green way is not necessarily the cheaper way—it is less expensive and more environmentally friendly in the long run, but good reusable diapers may not be as inexpensive as you might expect.
Childcare - Once you decide which option is best for your family, budget for the cost of an in-home nanny or day care. Reviewing the numbers may also help decide if it makes sense for one parent to return to work or stay at home.
Even if you do your best to think of everything ahead of time, every child is different and there are sure to be unexpected expenses that pop up at some point. Once you get to the first birthday and your little one is toddling around, you have cause to celebrate! Bring them in to Community Choice Credit Union and open a Captain's Choice savings account for them. Teaching by example and showing them how to save from a young age will surely help them grow into financially savvy adults. Bottom line, don't just expect that everything will work out on its own—be prepared!
About Community Choice Credit Union:
Established in 1935, Community Choice Credit Union offers a wide variety of financial products and services for both consumers and businesses. Any individual who lives, works, or worships in the following counties is eligible to become a member of Community Choice Credit Union: Genesee, Lapeer, Livingston, Macomb, Oakland, St. Clair, Washtenaw or Wayne County, Michigan. Since 2008, Community Choice has invested more $748,742 dollars and 10,727 volunteer hours into its charitable Give Big efforts throughout Michigan. For more information, visit CommunityChoiceCU.com.