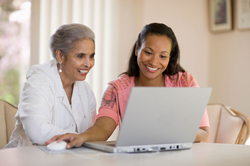 Spending time together on Mother's day would be the perfect opportunity to ask for help or to offer help to set up alerts on accounts.
Farmington Hills, MI (PRWEB) April 30, 2014
Mother's Day is fast approaching which means husbands, daughters and sons will soon be scrambling to find mom a gift. Instead of flowers or candy, make Mother's Day memorable by giving her a gift that will last for years − financial wellness. Here are three ways you can help mom take charge of her finances.
Set mom up with digital financial tools: Some mom's are tech-savvy, others aren't. Regardless of experience, many credit unions and banks are making investments into offering digital services which make it easier to manage money. With tools that allow you to deposit checks from your smartphone or receive notifications when your debit and/or credit card make a transaction, there are plenty of ways to make managing money easy. Take 15 minutes out of your day to show mom these tools and make sure she understands how to use them!
"I have instant alerts set up on my Community Choice Visa® credit card. Although it still surprises me how quickly the text message arrives when I use my card, it gives me such peace of mind. I also get an alert within an hour of anything posting to my Community Choice checking account," said Paula Piccinini, Marketing Communications and Public Relations Manager at Community Choice Credit Union. "Many parents already have smartphones and are getting used to the idea of text messages. Spending time together on Mother's day would be the perfect opportunity to ask for help or to offer help to set up alerts on accounts. Everyone will enjoy the peace of mind in knowing each time an account or credit card is accessed."
"I always appreciate when my kids take some of their personal time to show me new technology or how I can better utilize technology," said Mary Rennie, a mother of three from Wyandotte, Michigan. "It seems like credit unions and banks are always developing new technology, but sometimes you're reluctant to try it until someone takes the time to show it to you and explain how it can make your life easier."
Help mom consolidate credit card debt: U.S. News reports credit card interest rates average out around 15 percent, but many retail credit cards feature interest rates of 20 percent or more. Discuss transferring mom's department store card balances to a credit union credit card. CU Link Michigan reports credit union credit cards average a four percent lower interest rate than bank credit cards. If mom doesn't have a membership with a credit union, work with her to set one up. Aside from lower rates on credit cards, she'll experience many other benefits from belonging to a credit union.
Arrange for mom to meet with a financial planner: When the word investment is uttered, eyes often glaze over. Planning short and long term financial goals can be involved and complicated, that's where there's value in working with financial planners. Financial planners can specialize in a variety of areas; but many help by making informed recommendations to help save, invest and grow mom's money. Research some options and find reputable financial planners who want to work hard to help mom.
About Community Choice Credit Union: Established in 1935, Community Choice Credit Union offers a wide variety of financial products and services for both consumers and businesses. Any individual who lives, works, or worships in the following counties is eligible to become a member of Community Choice Credit Union: Genesee, Lapeer, Livingston, Macomb, Oakland, St. Clair, Washtenaw or Wayne County, Michigan. Since 2008, Community Choice has invested more than $748,742 and 10,727 volunteer hours into its charitable Give Big efforts throughout Michigan. For more information, visit CommunityChoiceCU.com.
###