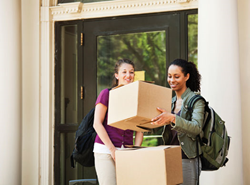 Knowledge is power. Parents should teach their children about financial responsibility so they can successfully manage their money on their own.
Farmington Hills, Mich. (PRWEB) July 18, 2014
In a few short weeks, students across Southeast Michigan will say goodbye to summer and head into their first college classes. Maybe these young men and women have already purchased dorm supplies and books. They could even be entering college with credit already earned. But are they financially prepared to be independent?
Gaining an understanding of financial independence as a young adult is a skill that could benefit an individual for a lifetime, says Catherine Wall of Green Path, Inc, Community Choice Credit Union's trusted Partner Relations Specialist. According to a survey conducted by Fidelity Investments, 70 percent of the class of 2013 is graduating with debt, averaging $35,200 and 25 percent of students had credit card debt, averaging $3,000.
"Knowledge is power," Catherine says. "Parents should teach their children about financial responsibility so they can successfully manage their money on their own."
Catherine advises that in order to realize financial success, it is critical for students and parents to work together to form a plan. Assess the career path that a student plans to take, and find a financially sensible way to realize that goal.
"If an individual doesn't know what type of work they want to do after college, how do they know what income they'll be making and if they will be able to afford to pay back their loans? It's all about making a plan," Catherine says. "Goals are important because they reflect your values and they provide you with a direction to go in. Build off that, and make your plan as accurate as possible."
She also recommends creating a realistic budget, which accounts for all income and expenses. Once that is created, then comes the most difficult part--sticking with it.
"Help your student come up with a month-to-month plan that accounts for the usual expenses but also the unexpected ones, such as a night out to eat with dorm mates," Catherine says. "And be clear on the financial contribution that you, as a parent, plan to make."
Finally, Catherine suggests that students and parents weigh their options when it comes to seeking financial aid or scholarships. In addition to grants and loans, there are campus-based aid programs, scholarships, 529 plans, pre-paid tuition plans, Coverdell Education Savings Accounts, and Roth IRAs.
"Realizing financial success for college students is planning, planning and planning," Catherine says. "When parents sit down with students to discuss money, they are teaching them important lessons that will help them thrive not only through college, but in life as well."
Community Choice Credit Union offers tips for college-bound students and their parents, as well as a variety of other financial services, on their website at CommunityChoiceCU.com.
About Community Choice Credit Union: Established in 1935, Community Choice Credit Union offers a wide variety of financial products and services for both consumers and businesses. Any individual who lives, works, or worships in the following counties is eligible to become a member of Community Choice Credit Union: Genesee, Lapeer, Livingston, Macomb, Oakland, St. Clair, Washtenaw or Wayne County, Michigan. Since 2008, Community Choice has invested more than $751,285 and 10,961 volunteer hours into its charitable Give Big efforts throughout Michigan. If you're looking for an experience that's different from your current banking relationships, let's get together. For more information, visit CommunityChoiceCU.com.