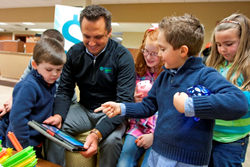 When kids are introduced to savings accounts and good financial practice early in life, they have a better grasp on what it takes to succeed financially once they leave home
Farmington Hills, Mich. (PRWEB) September 22, 2014
It's never too early to introduce a child to good financial practice. Community Choice Credit Union is offering parents guidance toward a strong financial foundation so children are more likely to have successful financial habits as they grow and become independent.
"When kids are introduced to savings accounts and good financial practice early in life, they have a much better grasp on what it takes to succeed financially once they leave home," said Jayson Bauer, manager of the Community Choice member center in Royal Oak, Michigan. "It's surprising how many kids come in before going to college with no prior financial experience and get easily overwhelmed."
This is why Community Choice Credit Union recommends starting a child out with a savings account from the time they're born. With a Captain Choice account, parents can deposit gifts from family and friends, while earning a special interest rate on the first $500 deposited. The account is for children ages 0 to 12 years old and offers fun incentives for kids to learn how to bank.
When a child comes in to make a deposit, he or she gets a stamp that goes toward earning a $5 gift card. Community Choice Credit Union also makes banking fun by offering a free birthday deposit. On their birthday, kids can come into a Community Choice member center and grab as much change as they can out of a jar. This money is then deposited in the child's account.
Once a child reaches age 13, it's time to progress to the My Choice account to prepare for financial independence. With this account, children can participate in seminars on important topics like how to buy a car and establishing good credit. At 15 years old children are eligible for a debit card, with a qualified adult on the account, which enables them to learn checkbook-balancing skills.
Once a child reaches adulthood and it's time to leave home for college, Community Choice makes it easy for students to access their account anywhere around the country with the Community Choice app, which features mobile deposits to be scanned in by camera phone. Shared branching also means many credit unions across the state will service Community Choice members.
"These are important steps that will prepare children for being financially independent," continued Bauer. "We encourage our members and all Michigan parents to make financial education a family priority."
About Community Choice Credit Union: Established in 1935, Community Choice Credit Union offers a wide variety of financial products and services for both consumers and businesses. Any individual who lives, works, or worships in the following counties is eligible to become a member of Community Choice Credit Union: Genesee, Lapeer, Livingston, Macomb, Oakland, St. Clair, Washtenaw or Wayne County, Michigan. Since 2008, Community Choice has invested more than $748,742 and 10,727 volunteer hours into its charitable Give Big efforts throughout Michigan. For more information, visit CommunityChoiceCU.com.