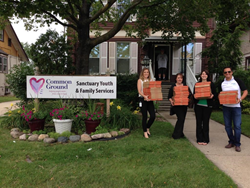 We hope this inspires other individuals and businesses to do good deeds, big and small.
Royal Oak, Mich (PRWEB) July 31, 2014
It may happen at a coffee shop counter when someone pays for a stranger's bill. Or it might be at community event where children are provided backpacks full of free school supplies. It could even happen when someone drops a few coins in a stranger's expired parking meter.
However they unfold, random acts of kindness are taking Southeast Michigan by storm, and for the recipients of them, Community Choice Credit Union asks that it be paid forward.
The Credit Union kicked off its Give Big Movement on Tuesday, July 29, when four Community Choice Credit Union employees gave 40 pizzas to kids at Common Ground, a Royal Oak shelter for runaway and homeless youth. "I'm so happy we could support an organization like Common Ground," said Abbey Bierlein, Foundation Coordinator at Community Choice Credit Union.
"Even though we only provided lunch for one day, we hope this inspires other people and businesses to do similar good deeds, big and small," Bierlein said. "Just imagine the impact that could have in Southeast Michigan."
The pizza donation comes with a backstory. For two months, three Community Choice Credit Union team members, Chelsea Wagner, Jordan Davis, and Maria Palimino, have been meeting at Blaze Pizza in Royal Oak to discuss ways to initiate a random-act-of-kindness ripple in the community, which they coined the Give Big Movement. Maria left her business card in a fish bowl raffle at Blaze Pizza, and just when she was brainstorming ways to execute the perfect good deed to initiate the Give Big Movement, she was informed that she had won 40 free pizzas.
"I thought, what better way to put this kind gesture to use than to give the winnings to children in need," Palimino said. "It all came together. It was meant to be."
The good deeds don't end there. Community Choice Credit Union team members will continue to demonstrate random acts of kindness throughout August, in hopes that the effects will ripple throughout Southeast Michigan. Want to learn more? Visit GiveBigMovement.com.
About Community Choice Credit Union: Established in 1935, Community Choice Credit Union offers a wide variety of financial products and services for both consumers and businesses. Any individual who lives, works, or worships in the following counties is eligible to become a member of Community Choice Credit Union: Genesee, Lapeer, Livingston, Macomb, Oakland, St. Clair, Washtenaw or Wayne County, Michigan. Since 2008, Community Choice has invested more than $751,285 and 10,961 volunteer hours into its charitable Give Big efforts throughout Michigan. If you're looking for an experience that's different from your current banking relationship, let's get together. For more information, visit CommunityChoiceCU.com.