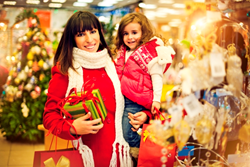 By thinking ahead and coming up with a financial plan, a person can drastically reduce holiday stress and improve their family's experience
Farmington Hills, Michigan (PRWEB) October 31, 2014
Cooler temperatures and falling leaves serve as a reminder that the holiday season is just around the corner. Now is the time to begin preparations to start saving for the holidays, and Community Choice Credit Union is offering tips to ensure this season is nothing but merry and bright.
"The holiday season is such a joyous time of year, but it can lead to many people starting the following year in a bad place, with accumulated debt from holiday spending," said Catherine Wall, of Green Path, Inc, Community Choice Credit Union's trusted Partner Relations Specialist. "By thinking ahead and coming up with a spending plan, a person can drastically reduce holiday stress and improve their family's experience."
Set a budget and stick to it:
Wall suggests setting a holiday budget as soon as possible. To do this, first figure out the size of the budget. Next, create a list of everyone you need to buy for. Lastly, divvy up how much should be allocated to each person. Be sure to include planning for decorations and food in the budget.
Set up a holiday savings account:
Wall recommends creating a special savings account used only for holiday spending. Every month, make a small deposit into the account and vow not to use those funds for anything but holiday spending.
Find money in unexpected places:
Whether it's committing to shaving $10 off of 10 spending categories, or selling unused items that are lying around the house, there are plenty of places to find a little extra money, according to the National Foundation for Credit Counseling.
"Keep the holiday season front of mind by posting pictures throughout the house or in your car to remind you of what you're saving for," said Wall.
Start a Secret Santa gift exchange:
Introducing a Secret Santa gift exchange for a group of friends or family saves time, cuts cost, increases value and adds an element of fun to gift giving. For instance, rather than spending $20 each on five different people, have each person pick a name and buy one gift worth $50. That's an instant 50 percent savings.
Buy a few generic gifts:
"There's always that unexpected holiday party that pops up and you find yourself at the store, last minute, searching for a host or hostess gift," said Wall. "We use dollars to compensate for time and end up overshooting our budget."
To avoid this, Wall recommends buying two or three generic gifts on sale that can either be re-purposed or returned if they're not gifted during the holiday season.
Adjust the W-4:
If families are continuously overspending and piling up debt, Wall suggests meeting with a tax consultant to look into adjusting their W-4.
"More often than not, the people who are using credit card debt to make ends meet are also receiving large reimbursements come tax time because they're over-paying their taxes," said Wall. "By adjusting your W-4, you can spread that reimbursement across the entire year."
Pay for everything before the holiday:
"If you cannot pay for something with cash, don't buy it," said Wall. "The best gift you can give yourself is being able to go into the next year without any debt from the holiday season."
About Community Choice Credit Union: Established in 1935, Community Choice Credit Union offers a wide variety of financial products and services for both consumers and businesses. Any individual who lives, works, or worships in the following counties is eligible to become a member of Community Choice +Credit Union: Genesee, Lapeer, Livingston, Macomb, Oakland, St. Clair, Washtenaw or Wayne County, Michigan. Since 2008, Community Choice has invested more than $751,285 and 10,961 volunteer hours into its charitable Give Big efforts throughout Michigan. If you're looking for an experience that's different from your current banking relationship, let's get together. Community Choice Credit Union is proud to be a Detroit Free Press Top Workplace 2014. For more information, visit CommunityChoiceCU.com.