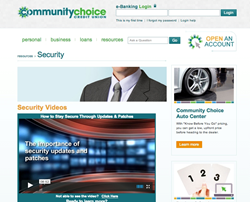 We want our members to stay in the know about what attacks are out there and how to prevent them.
Farmington Hills, MI (PRWEB) June 30, 2014
Being secure online is important. Protecting your financial assets is critical. In today's world, the two go hand in hand, which is why Community Choice Credit Union recently rolled out a new security section on its website.
Visitors can turn to the security section of the site to stay in the know of the latest scams, attacks, and other vulnerabilities that could put them at risk for identity theft and fraud. Most importantly, the website gives information about scam prevention to help users avoid security issues.
Identity theft is the fastest growing crime in the U.S., according to the Federal Trade Commission. In addition to being aware of this growing problem, which takes shape in the form of fake approval offers, email scams, and more, it is important to learn to identify fraud, how to protect yourself, and what to do should your information be misused.
"Scams are a security issue that we have to be prepared for," said Philip Cooper, EVP - Chief Operating Officer of Community Choice Credit Union. "The goal of our security page is to inform and educate, giving members the tools to avoid falling victim to these breaches in security. We want our members to stay in the know about what attacks are out there and how to prevent them."
About Community Choice Credit Union: Established in 1935, Community Choice Credit Union offers a wide variety of financial products and services for both consumers and businesses. Any individual who lives, works, or worships in the following counties is eligible to become a member of Community Choice Credit Union: Genesee, Lapeer, Livingston, Macomb, Oakland, St. Clair, Washtenaw or Wayne County, Michigan. Since 2008, Community Choice has invested more than $751,285 and 10,961 volunteer hours into its charitable Give Big efforts throughout Michigan. If you're looking for an experience that's different from your current banking relationship, let's get together. For more information, visit CommunityChoiceCU.com.