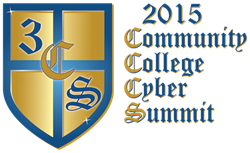 Las Vegas, Nevada (PRWEB) February 24, 2015
As the United States confronts the urgent need for cybersecurity professionals, community colleges are ramping up their educational efforts to meet the industry demands. The Community College Cyber Summit (3CS) is where faculty from community colleges go to network, learn, and brainstorm to rapidly expand and enhance cybersecurity programs across the nation.
The 2nd Annual 3CS is being held June 17th – 19th in Las Vegas, hosted by the College of Southern Nevada. This is the only national academic conference that specifically addresses cybersecurity education in community colleges.
The networking atmosphere and camaraderie of professionals at 3CS is what drives community college's cybersecurity faculty and staff back for more. 3CS provides an opportunity for all community college faculty and staff to join together and discuss similar challenges in developing and offering cybersecurity programs and ways to overcome obstacles.
"2014's 3CS marked a significant milestone in our college being able to prepare for the CAE2Y accreditation," states Krish Mahadevan, IT faculty, Green River Community College. "We were able to have live discussions, partake with ideas, tools and techniques that will enable us to become a CAE2Y which otherwise would have to be done over the phone or email. Very helpful, concentrated, conducive, collected (3Cs!)"
"I am looking forward to the 3CS conference as it is a great place to learn about new initiatives that will occur during the year and to weigh-in on future initiatives or plans," states Dr. Deanne Cranford-Wesley, Forsyth Technical Community College. "The awesome workshops allow me to learn about new technologies that can be implemented into courses seamlessly. I enjoyed 3CS in 2014 and am looking forward to this year's conference in Nevada!"
The first annual 3CS was held in July 2014 at Moraine Valley Community College, Palos Hills, IL. A principal outcome of this conference was laying the foundation for a new blueprint for the rapid expansion and enhancement of cybersecurity education programs at community colleges throughout the United States. At the summit, a commitment was made to produce the first draft of this document before the second 3CS summit. In its present form, the draft blueprint document will address 43 topics grouped into seven focus areas: Certifications and Standards, Curriculum, Non-curricular Components of Community College Cybersecurity Programs, Cybersecurity for the National Critical Infrastructure, Career Preparation, Recruitment, and Research in Community College Cybersecurity Education. Going forward, the annual summit will provide an opportunity to update the blueprint each year.
To register for 3CS, go to http://www.regonline.com/2015communitycollegecybersummit.
About Community College Cyber Summit (3CS):
3CS is organized and produced by the National CyberWatch Center, National Resource Center for Systems Security and Information Assurance (CSSIA), CyberWatch West (CWW), Cyber Security Education Consortium (CSEC), and Advanced Cyberforensics Education Consortium (ACE), all funded by the National Science Foundation (NSF). The outcomes of 3CS will leverage community college's cybersecurity programs across the nation by introducing the latest and greatest of technologies, best practices, curricula, products and more. To learn more, go to: http://www.regonline.com/2015communitycollegecybersummit.