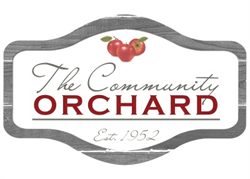 "Each year we introduce new features to the Community Orchard, both inside and out," says Bev Baedke, Owner of the Community Orchard.
Fort Dodge, IA (PRWEB) August 31, 2015
The Community Orchard lays on hillsides and scenically borders the Des Moines River just outside of Fort Dodge, Iowa. The beautiful landscape is just one of the features that makes this a destination stop since it opened in 1952.
This year visitors will be welcomed by the new Farmhouse Kitchen Apple Orchard Café that features favorites like Scarecrow Soup and Chicken Salad Croissants along with fresh baked apple pies, turnovers and dumplings. Lunch is served here all week long from 11 am to 2:30 pm. Bookings for receptions, parties and other social events are also welcomed.
A new feature this year is located beside the Back 40 Playground. "The Legend of Spookley the Square Pumpkin" Corn Maze will be open to the public September 25th. The Community Orchard has been selected to be the exclusive regional site to host the nationally recognized "Spookley the Square Pumpkin" Program. All ages will have fun learning about the story of Spookley the Square Pumpkin along with National Bully Prevention Month. Area schools are encouraged to schedule tours for their students to learn more about the bully prevention program.
The season is filled with events and activities which are all published on the Community Orchard calendar. Visitors will be able to participate in photo session day, Apple Fest Weekends, view the Olde Scarecrow contest entries, rides to the pumpkin patch, Full Moon Dinner, and other family friendly activities.
Not to be forgotten is the Apple Attic filled with Apple Home and Apple Baby items. Here visitors will find unique shopping items to fill the home, clothing lines that are exclusive to the area along with baby clothing and gifts.
"Each year we introduce new features to the Community Orchard, both inside and out," says Bev Baedke, Owner of the Community Orchard. "There is always something different going on and we pride ourselves with providing a new adventure to our guest at each and every visit to the Community Orchard."
Online ordering was introduced in 2014 and will again be available starting later in September. This service is a perfect opportunity to select Community Orchard favorites and have them shipped to loved ones, friends and business associates all over the United States.
The Community Orchard is open seven days a week at 2237 160th Street, Fort Dodge, Iowa 50501. For more information you can call 515-573-8212, visit the website at http://www.communityorchard.com and following them on Facebook.