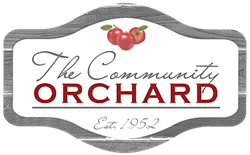 "Each year we create a new Community Orchard, both inside and out," says Bev Baedke, Owner of the Community Orchard. "There is always something different going on and we pride ourselves with providing a new adventure to our guest at each and every visit..
Fort Dodge, Iowa (PRWEB) August 01, 2016
A scenic view of the Des Moines river with rows and rows of apple trees greet visitors as they drive up to the Community Orchard. Walking into the front door, the scent of fresh baked pies and dumplings coming from the Farmhouse Kitchen Apple Orchard Café bring back childhood memories.
The Farmhouse Kitchen Apple Orchard Café is open all week long and serves lunches of Scarecrow Soup, Chicken Salad Croissants and other specialties from 11 am to 2:30 pm. Booking receptions, parties and social events is also available.
Unique gifts and décor are located in the Attic Gift Shop where you find Apple Home and Apple Baby. From contemporary designs to trendy decor, other accessories and gifts and clothing lines that are exclusive to the area along with baby clothing and gifts. Be sure to make this a frequent stop as the area is changed with new items every two weeks and new seasonal finds. Visitors will also see the new "Cow Pen" that will spark everyone's fancy with fun items that that just have to be taken home.
Each year a new corn maze is a featured activity at the Community Orchard. This year the whole family can enjoy the "Where Is Waldo" corn maze. Follow through the maze to try to find Waldo. It is also a fun field trip for schools along with the ever popular Back 40 Playground.
The Community Orchard is open until Christmas for the 2016 season. Also offered is the easy online ordering to ship to friends and family. Hand packed specialty boxes are perfect for the holidays and to send to corporate and business associates.
The season is filled with events and activities which are all published on the Community Orchard calendar. Visitors will be able to participate in photo session day, Apple Fest Weekends, view the Olde Scarecrow contest entries, rides to the pumpkin patch, Full Moon Dinner, and other family friendly activities.
"Each year we create a new Community Orchard, both inside and out," says Bev Baedke, Owner of the Community Orchard. "There is always something different going on and we pride ourselves with providing a new adventure to our guest at each and every visit to the Community Orchard."
The Community Orchard is open seven days a week at 2237 160th Street, Fort Dodge, Iowa 50501. For more information, you can call 515-573-8212, visit the website at http://www.communityorchard.com and following them on Facebook, Twitter and LinkedIn. #ThisIsFortDodge