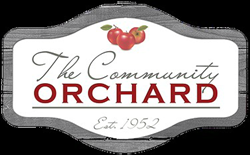 "Everyone will be delighted when they receive our carefully hand packed items grown right here in Fort Dodge, Iowa," says Bev Baedke, second generation owner of the Community Orchard
Fort Dodge, IA (PRWEB) November 20, 2014
The Community Orchard lays on hillsides and scenically borders the Des Moines River just outside of Fort Dodge with acres of apple trees and pumpkins. Smells of freshly made pies, dumplings and turnovers fill The Orchard Market as guests mingle and shop or take a seat at the Apple Orchard Cafe to enjoy lunch, dessert and conversation.
With a far reaching reputation for time cherished favorites, the Community Orchard is now offering online ordering to share memories from visits and orchard favorites with loved ones.
"We have been offering, on a limited basis, shipping of items on a per request service," says Bev Baedke, second generation owner of the Community Orchard. "With families spread all over the country and looking for a little bit of home to give during the holidays, we have selected some of the favorites to be part of our new online ordering services."
A click of the mouse selects specially prepared gift boxes of items or a selection of favorites to be delivered directly. Some of the item selections include sweet corn salsa, maple apple dip, English Toffee, caramels, raspberry rhubarb jam, red raspberry pretzel dip, golden caramel corn nuggets, blackberry walnut vinaigrette dressing, candied jalapenos and caramel apple muffin mix. Even more can be found on the online store.
The specialty gift boxes are the perfect combination of favorites from the Community Orchard. A time tested request is the Best Flavors of the Orchard. This gift box contains six honey crisp apples, six homemade caramels, one pound of their famous homemade English Toffee and one pint of sweet corn salsa.
"Everyone will be delighted when they receive our carefully hand packed items grown right here in Fort Dodge, Iowa. Our corporate clients also enjoy how we are able to send a special personalized holiday greeting to thank their customers," states Bev.
The Community Orchard is located at 2237 160th Street, Fort Dodge, IA and is open starting in May for weddings and special events. The orchard and the rest of the services open August 1st. For more information you can visit http://www.communityorchard.com or call 515-573-8212.