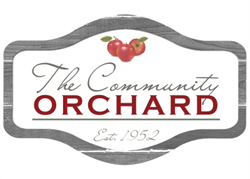 "Our new Community Orchard online ordering is something that we are so proud to be able to offer. For years we have hand-packed gift boxes for families, friends and corporate clients...." says Bev Baedke, second generation owner
(PRWEB) November 25, 2014
For anyone that is seeking the perfect gift that says Happy Holidays, a beautifully hand-packed gift box from The Community Orchard will be welcomed by all. Each gift box is filled with orchard grown and Iowa grown products that will become a family tradition and greatly anticipated corporate gift.
The Community Orchard is located on the scenic hillside of the Des Moines River just outside of Fort Dodge, IA. This second generation orchard is a destination stop for over 60 years for families and friends. Smells of freshly made pies, dumplings and turnovers fill The Orchard Market. Guests mingle and shop or take a seat at the Apple Orchard Cafe to enjoy lunch, dessert and conversation.
The Community Orchard has a far reaching reputation for time cherished favorites like homemade English Toffee, homemade fudge in several varieties, homemade caramels, sweet corn salsa, maple apple dip, raspberry rhubarb jam, red raspberry pretzel dip, golden caramel corn nuggets, blackberry walnut vinaigrette dressing, candied jalapenos and caramel apple muffin mix. Of course you can also order a box of orchard grown Honey Crisp and Haralson apples to be shipped as well.
"Our new online ordering is something that we are so proud to be able to offer. For years we have hand-packed gift boxes for families, friends and corporate clients in our area. Now we can expand that special touch to everyone," says Bev Baedke, second generation owner of the Community Orchard.
Each specialty gift box contains the perfect combination of favorites from the Community Orchard. A time tested request is the Best Flavors of the Orchard. This gift box contains six honey crisp apples, six homemade caramels, one pound of their famous homemade English Toffee and one pint of sweet corn salsa.
Other gift boxes include the All From Home and the All From Iowa #1 and All From Iowa #2. Each box has a variety of favorites that will be enjoyed by all. Since each box is individually prepared, special requests are easily handled.
"Everyone will be delighted when they receive our carefully hand-packed items grown right here in Fort Dodge, Iowa. Our corporate clients also enjoy how we are able to send a special personalized holiday greeting to thank their customers," states Bev.
The Community Orchard is located at 2237 160th Street, Fort Dodge, IA and is open starting in May for weddings and special events. The orchard and the rest of the services open August 1st. For more information you can visit http://www.communityorchard.com or call 515-573-8212.