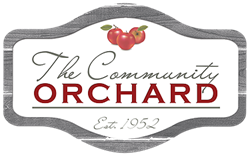 "We keep the students busy and keep the costs at a minimum so that it is a field trip that everyone can participate in," says Owner Bev Baedke
Fort Dodge, Iowa (PRWEB) September 06, 2016
The Community Orchard is now open for the 2016 season and has three fun and educational field trips and tours for students. Teachers are able to pick from the Apple Pickin' Tour, Pumpkin Patch Tour and Combo Tour.
Apple Pickin's Tour will take the class on a walk to the orchard where they will be able to pick an apple. An educational segment is also provided on the tour that tells about the 4 seasons of the apple tree and the transition the trees make through-out the year. Students will then view the gigantic coolers where the apples are stored and a visit to the bakery. Everyone is treated to apple cider at the Back 40. Expect to spend about 45 minutes on this tour.
A Pumpkin Patch Tour takes the students on a venture down to the pumpkin patch in the Pumpkin Cruiser. Everyone will enjoy popcorn and picking their perfect pumpkin. A trip to the Back 40 and samples of freshly pressed cider are served to end the 45 minute tour.
Teachers are also able to select the Combo Tour which will last about 90 minutes. This tour combines both the Apple Pickin' Tour and the Pumpkin Patch Tour into a fun afternoon filled with memories to share with friends and their families.
"We encourage the teachers to give us a call to visit about the tours and set up a time for everyone to join us." says Bev Baedke, Community Orchard Owner. "We keep the students busy and keep the costs at a minimum so that it is a field trip that everyone can participate in."
Just down the road is Clay and Associated DDS, PLC dental clinic. A 30 - 45 minute tour of this state of the art dental clinic along with a fun activity for the students to do at home is also available. Put both of these stops together and have a fun day for students, teachers and any family members that also attend.
The Community Orchard is located at 2237 160th Street, Fort Dodge, IA. Additional activities include receptions and events, the Where's Waldo Corn Maze, Back 40, Apple Attic, Apple Orchard Cafe and Apple Market. Online ordering is also available. Call 515-573-8212, email orchard(at)forntiernet(dot)net, visit the website at http://www.communityorchard.com and follow along on Facebook, Twitter and LinkedIn.