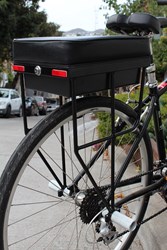 People are social and this would be very convenient for short trips; people sit on the back of motorcycles and this is really no different; anything that makes bikes more useful, fun and as normal as walking should be encouraged. - treehugger
San Francisco, CA (PRWEB) December 02, 2013
In addition to being being able to give a friend a ride, Companion Bike Seats also feature a locking, waterproof compartment beneath the seat for storage. For the first time, bicyclists can bring their date and leftovers home with them from the restaurant, on their bike.
Companion Bike Seat is a Bay Area based company founded by two bike enthusiasts and life-long friends looking for a way to turn existing bicycles into multi-passenger vehicles.
"Cargo bikes and utility bikes offer a similar solution, but require a significantly larger investment, usually buying a whole new bike," says co-founder Paul O'Leary. "Companion Bike Seats install onto a wide variety of bicycles, so you get much of the same functionality for a fraction of the cost."
Patent-pending Companion Bike Seats support passengers up to 200 lbs, and were load tested at over 2 tons. The seat flips open to reveal the waterproof stash-box for your belongings that conveniently fits a 6-pack. The seat cushion is made with waterproof vinyl so it will withstand weathering as well. The steel-alloy frame requires installing pegs onto your rear axle (included with every bike seat) so quick-release hubs need to be swapped out for a solid axle, although Companion Bike Seat has provided resources on their website to aid with this, if necessary. Companion Bike Seats are available now for pre-order via Kickstarter for a limited time, and on their website afterward. Pre-orders of Companion Bike Seats are expected to deliver by April of next year.
Bike-commuting is growing in popularity in cities throughout the US, and Companion Bike Seats makes it even more accessible by turning virtually any bicycle into a cargo bike with room for another passenger. For bicyclists that already have a rack on their bike, why not make it a Companion Bike Seat and have the option of carrying a passenger whenever the need should arise? It's functional, and a whole lot of fun too! More info at http://www.thebikeseat.com.