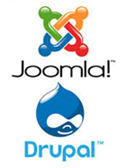 Comparison of Drupal and Joomla
(PRWEB) March 18, 2014
Threehosts.com compares the two popular Content Management Systems of Joomla and Drupal.
A comparison table of Joomla, Drupal and WordPress and examples of real websites created with each program are available at http://www.threehosts.com/ratings/comparison-software/wordpress-vs-joomla-vs-drupal.html.
A content management system (CMS) is a system used to publish, edit and modify content as well as maintenance from a central interface. Web content includes text, photos, video, audio, and code that displays content or interacts with the user. Some content management systems provide a Web-based GUI which enables publishers to access the CMS online using only a Web browser. Also, a CMS will provide options to index and search documents and also specify keywords and other metadata for search engine crawlers. Many of the most popular websites in the world use free and publicly available CMS' like Wordpress, Joomla and Drupal.
Joomla! is one of the most powerful Open Source Content Management Systems. It is used all over the world for everything from simple websites to complex corporate applications. Joomla! is easy to install, simple to manage, and reliable. It can deliver a robust enterprise-level Web site as well, empowered by endless extensibility for clients' bespoke publishing needs.
Drupal is a software that allows an individual or a community of users to publish, manage and organize a great variety of content on a website. Equipped with a powerful blend of features and configurability, Drupal can support a diverse range of web projects ranging from personal weblogs to large community-driven sites.
About Threehosts.com – Threehosts.com is a reliable resource for web hosting company reviews and ratings, including non-commercial hosting and eCommerce. They provide a list of top 3 web hosts. Their experts have been evaluating web hosting service providers for years, and now they present the information in an easy to understand format that helps the consumer make the best choice when choosing a proper web host for their personal and business websites.