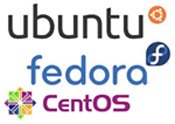 Fedora vs. CentOS vs. Ubuntu
(PRWEB) October 28, 2013
Threehosts.com compares the top 7 Linux Operating Systems, including Fedora, Ubuntu and CentOS. The detailed comparison is available at http://www.threehosts.com/ratings/comparison-software/linux-vs-ubuntu-vs-centos-fedora-vs-debian-vs-red-hat-vs-open-suse-vs-mint.html.
Ubuntu is the most user-friendly Linux distribution, offering strong community-based support and a consistent release cycle. It has also a reputation for security. Ubuntu updates the latest software versions on a regular schedule. The disadvantage of frequent updates is that it's hard to keep bugs from slipping into the system. In fact, Ubuntu is not intended to be updated with all the latest software as time goes on. It is designed for the opposite, to be stocked with long-tested software and only upgrading them with critical and security-related fixes. Ubuntu is the best choice for newbies.
CentOS is perfect for those looking for a highly stable version of Linux that offers enterprise-level reliability. The price of stability is that the software versions included with CentOS are rarely the latest. It comes with the same set of well-tested and stable Linux kernel and software packages that form the basis of its parent, Red Hat Enterprise Linux. CentOS is supported with a minimum of 5 years of security updates. Security features include an excellent firewall and SELinux, a policy enforcement mechanism that prevents wayward applications from ever causing security problems.
Fedora focuses on including cutting-edge software. They continually update to newer software packages. Since Fedora's priorities tend to lean towards enterprise features, rather than server usability; some bleeding edge features occasionally alienate some users. On the other hand, since Fedora is not as popular as Ubuntu and CentOS, it may sometimes be harder to find what app users are looking for. They will be stuck building from source instead of just installing it from the repositories. Building from source isn't all that hard, but it won't allow users to automatically update that program. Fedora is recommended for advanced Linux administrators.