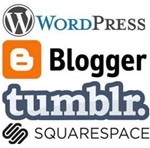 Wordpress vs Blogger vs Tumblr vs Squarespace
(PRWEB) January 31, 2014
Threehosts.com compares the top four blogging platforms. The detailed Comparison of Wordpress, Squarespace, Blogger, and Tumblr is available at http://www.threehosts.com/ratings/comparison-software/wordpress-vs-blogger-vs-tumblr-vs-squarespace.html.
Tumblr is a microblogging system and social networking website owned by Yahoo! Inc which doesn't support native comments, but users can install Disqus comments on many of their featured themes. This platform allows users to post content to a short-form blog.
Squarespace is a SaaS-based content management system which features LayoutEngine, superb media management, and real-time comments. This CMS is composed of a website builder, blogging platform and hosting service and allows users to create and maintain websites and blogs.
Blogger is a blog-publishing service owned by Google that allows users to have up to 100 blogs per account. The blogs are hosted at a subdomain of blogspot.com. Blogger doesn't allow users to publish blogs on other web hosts and people have to use DNS to redirect their blogs to a custom URL. Blogger cannot be installed in a web server and all blogs have to be on Google's servers.
WordPress started in 2003 and runs on a web hosting service. It is the most popular blogging platform which is used by more than 19% of the top 10 million websites. WordPress is an open source content management system based on PHP and MySQL that there are hundreds of volunteers all over the world working on it.
About Threehosts.com – Threehosts.com is a reliable resource for web hosting company reviews and ratings, including non-commercial hosting and eCommerce. They provide a list of top 3 web hosts. Their experts have been evaluating web hosting service providers for years, and now they present the information in an easy to understand format that helps the consumer make the best choice when choosing a proper web host for their personal and business websites.