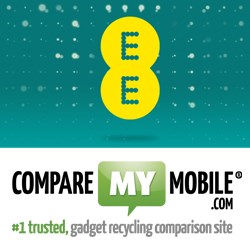 Having household names like EE Recycle on the site helps raise phone recycling awareness.
Christchurch, Dorset (PRWEB UK) 22 October 2013
Gadget recycling comparison site CompareMyMobile.com is proud to welcome one of the top UK mobile phone networks to its comparison list, as EE launches its own online gadget trade-in service.
About EE Recycle and Reward
EE's Recycle and Reward scheme will allow customers to trade-in old mobile phones and tablet computers – and the great prices for these devices will now be compared with others already on the online trade-in market.
Consumers are made aware that EE Recycle and Reward also welcome any mobile phone on any network as long as they have it in their database, alleviating concerns that the recycler only accepts devices on their own network.
The company also offer a price promise where they will return your phone for free if you're not happy with the value quoted, as well as a free postage pack for sending it in - making it a totally risk free way to recycle your old gadgets.
Why did they partner with CompareMyMobile.com
CompareMyMobile.com compares over forty UK gadget recycling websites, including O2 Recycle, Mazuma Mobile, Envirofone, Money4Machines and Gadgets4Everyone, based on prices offered and consumer reviews. It features over 4,000 devices and well over 100,000 prices, allowing customers to get up to 450 GBP for an old electronic device.
The comparison site is the only one in the UK that gives customers a completely impartial way to see who will give them the most money for their old gadget. CompareMyMobile.com do this by ranking sites using verified customer reviews against the prices the recycle stores pay the UK consumers. By doing this, the site believe that gadget recycling can become a much more transparent, easy and trustworthy process which customers can have confidence in.
49.5 million GBP worth of gadgets, including mobile phones, iPads, tablets, sat navs and games consoles have been processed through the site since its launch in 2009. According to site data, users can save an extra 43 percent cash by comparing prices online, so CompareMyMobile.com do advise that customers track prices, which they can do using the Android/iOS app. This means they can make an educated decision on the best time to sell an old device.
The site say that they are extremely excited to add EE Recycle and Reward to this comparison service - as combining the team's 10+ years of experience in the industry with EE's huge experience within the mobile sector can only be a benefit to consumers.
Co-founder of CompareMyMobile.com, Ashley Turner, says: "Having household names like EE Recycle on the site helps raise phone recycling awareness and gives consumers more confidence from seeing big brands getting involved."
Founded in 2009, CompareMyMobile.com is the UK's #1 source for independent mobile phone, tablet, sat nav, laptop, iPad, iPod and games console recycling price comparison. It delivers customers confidence in making the difficult decision of where to recycle their old phone safely and for the most money. CompareMyMobile.com is 100 percent impartial, comparing prices from more than 40 recycling stores.
Please visit our website, press page or follow our RSS feed for more stories like this.