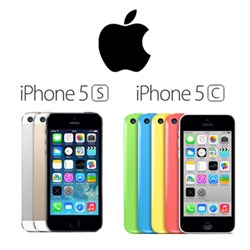 We know from last year, the greater the number of recycle iPhones the lower the price gets.
Christchurch, Bournemouth (PRWEB UK) 24 September 2013
On the day of the iPhone 5S and iPhone 5C release:

iPhone valuations up just 120.25 percent – massively lower than previous years
Apple makes up 30.2 percent of all trade-ins – loses what it claimed back to smaller brands
BlackBerry makes up 20.3 percent of all trade-ins – up from 11.51 percent before iPhone 5S release
iPhone resale prices of older models still plummet as much as £30
iPhone valuations are up just 120.25 percent following the release of the iPhone 5S and 5C, according to leading mobile phone recycling site CompareMyMobile. The site say this is a smaller rise than would usually be expected, especially following the 367.57 percent rise in valuations following the iPhone 5 announcement in 2012.
The site already recently reported a 269.57 percent boost following the reveal of the new devices, but say this seems tiny compared to the 831.93 percent surge after the iPhone 5 reveal.
The iPhone 4S and 3GS were valued most using the website on the iPhone 5S release day, seeing a 300 percent and 233.33 percent rise in valuations respectively. The iPhone 5 only saw a 137.5 percent rise in valuations. The site believes this could have happened as people are still in 24 month contracts with the iPhone 5, but with critics stating that there aren't enough stand out changes to the new model this could show hesitation.
However, CompareMyMobile do say the fact there has still been a rise in valuations shows a few loyal fans upgrading to the latest device.
In fact, the rise in valuations on reveal day of the devices allowed Apple's market share to shoot from 25.6 percent to 46.87 percent. But site data shows that this did not last for long – with Apple's share falling to 30.2 percent on release day as consumers with other brands, not Apple fans, decided to upgrade.
For example, BlackBerry valuations almost doubled from 10.27 percent to 20.3 percent following the iPhone 5S and 5C release. This comes at a time when BlackBerry are clearly reported to be struggling, and the site believes this could be consumers reacting to this and upgrading to a more popular brand.
Brand market share following iPhone 5S and 5C release:
Apple: 30.2 percent
Samsung: 23.76 percent
BlackBerry: 20.3 percent
Nokia: 10.89 percent
HTC: 5.94 percent
*according to site data from CompareMyMobile on 22/09/2013
As predicted by the site, the slight rise in iPhone valuations has had a huge knock on effect on some pricing.
iPhone models losing most value:
iPhone 5: -£33.10
iPhone 4S: -£22.25
iPhone 3G: -£11
*according to live pricing on CompareMyMobile on 22/09/2013
However, where valuations haven't soared as they usually would, prices for other handsets have remained fairly stable.
Co-founder of CompareMyMobile, Andrew Beckett, says: "The opening weekend of the new iPhone 5C and 5S has been intriguing, with large volumes of customers checking out the latest prices. Prices in the most searched devices have remained stable, the expected daily reduction in prices has not been seen as yet due to the very low volumes. We know from last year, the greater the number of recycle iPhones the lower the price gets. It's just not happening at the moment, clearly the demand from loyal Apple customers is not there."
The site recommend that customers track the prices of their old iPhone models as soon as possible using the website or the iOS/Android app to ensure they don't lose out.
About CompareMyMobile
Founded in 2009, CompareMyMobile.com is the UK's #1 source for independent mobile phone, tablet, sat nav, laptop, iPad, iPod and games console recycling price comparison. It delivers customers confidence in making the difficult decision of where to recycle their old phone safely and for the most money. CompareMyMobile.com is 100 percent impartial, comparing prices from more than 40 recycling stores.
Please visit our website, press page or follow our RSS feed for more stories like this.