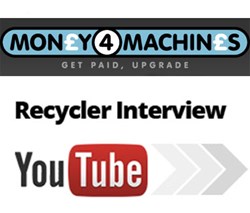 They were awarded our 'Recycler of the Year 2012' award last year for their excellent pricing and impeccable customer service
Christchurch, Bournemouth (PRWEB UK) 7 August 2013
See the full interview here.

Money4Machines explain what happens when phones come into the company
Damaged phones are simply explained in three categories
Recycler often receives handsets which aren't what people claim them to be
Leading mobile phone recycling comparison site CompareMyMobile.com has produced its second video as part of a series of interviews with gadget recycling partners in the UK. The site is aiming to provide a truly transparent view into the industry, by asking top recyclers the questions that many consumers have about the process.
CompareMyMobile has now conducted an interview with leading UK recycling company Money4Machines, asking Chief Operating Officer Richard Jones whether consumers can recycle damaged phones, why people would be likely to receive less money and how the process actually works.
The idea for the company stemmed from when the Managing Director bought a bike from a car boot sale as a young boy. After renovating the bike and selling it on he became hooked, remaining in the refurbishing and re-using industry ever since. This essentially led to the start of Money4Machines in 2011 – as he expanded to recycle the latest technology.
Mobile phone and gadget recycling has become extremely important due to the rise of modern technology. It is predicted that there are an average of over two unused phones per UK household. The toxins inside two phones are enough to pollute 120,000 litres of water, so the site says it is more and more vital that people recycle electronics responsibly.
However, trust issues within the UK recycling market can put some people off. CompareMyMobile hopes to turn this around, leaving consumers with more cash and a safer, protected environment.
Co-founder of the site Ashley Turner said: "Money4Machines is a recycler on a much smaller scale than the likes of Mazuma and Envirofone, however they were awarded our 'Recycler of the Year 2012' award last year for their excellent pricing, impeccable customer service and generally setting an example of the sort of business we're proud to have on our websites comparison listings."
About CompareMyMobile
Founded in 2009, CompareMyMobile.com is the UK's #1 source for independent mobile phone, tablet, sat nav, laptop, iPad, iPod and games console recycling price comparison. It delivers customers confidence in making the difficult decision of where to recycle their old phone safely and for the most money. Compare My Mobile is 100% impartial, comparing prices from more than 40 recycling stores.
Gadgets4Everyone has previously answered many frequently asked questions from consumers, please subscribe to our RSS for more related news.