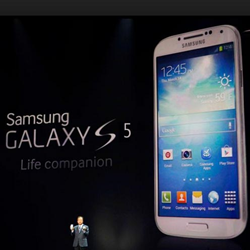 CompareMyMobile found it was not just Samsung owners that were excited about the new flagship device
(PRWEB UK) 25 February 2014
• Valuations doubled on the site following the announcement of the Samsung Galaxy S5

ComparemyMobile releases the top 20 handsets consumers went to value following the event
Samsung makes up 38.09 percent of all trade-ins, up from 18.5 percent in 2013
Leading phone recycling comparison website CompareMyMobile, has seen the number of valuations of phones spike by almost double between the hours of 18:00 and 21:00 GMT London time.
Samsung makes up over 38.09 percent of all trade-ins going through the website; this is up hugely from the 18.5 percent trade-in share back in January 2013. This is down to the large volumes of shipments of Galaxy phones over the past few years.
As of February 2014, statistics from the website show that the four Samsung Galaxy S devices (S1,S2,S3,S4) take up over 23.51 percent of the devices people are trading in online. The Samsung Galaxy S3 is the largest traded-in device online right now with a share of 11.43 percent. The average price a consumer sees for trading in a Samsung android device is 95.57 GBP
Comparemymobile advises consumers to shop around; the prices offered by online recycling websites can vary vastly. When looking at Samsung Galaxy models, consumers can stand to lose up to 693 GBP on the top 10 devices without comparing prices. The Samsung Galaxy S4 has a 109.09 GBP difference in the top and bottom quoted price from recyclers.
From analysing the stats, CompareMyMobile found it was not just Samsung owners that were excited about the new flagship device. Brands like Apple, Google Nexus and Blackberry were also included.
Figures illustrate the increase in online valuations between the day of the Samsung Galaxy S5 event and the week before.
Google Nexus 4 16GB - 1532 percent increase
Apple iPhone 5s 32GB - 425 percent increase
Apple iPhone 5 32GB - 373 percent increase
BlackBerry Curve 8900 - 311 percent increase
Samsung Galaxy Note - 167 percent increase
Google Nexus 5 16GB - 117 percent increase
BlackBerry touch 9900 - 82 percent increase
Sony Xperia Z1 - 73 percent increase
BlackBerry torch 9800 - 71 percent increase
Samsung Galaxy Note 2 - 47 percent increase
Samsung Galaxy Note 3 - 42 percent increase
Nokia Lumia 800 - 36 percent increase
Sony Xperia z - 34 percent increase
Samsung Galaxy S4 - 31 percent increase
Apple iPhone 3gs 16GB - 25 percent increase
Apple iPhone 3gs 8GB - 23 percent increase
Apple iPhone 5 16GB - 16 percent increase
BlackBerry Curve 9320 - 11 percent increase
Samsung Galaxy S3 - 8 percent increase
About CompareMyMobile
Founded in 2009, CompareMyMobile is the UK's #1 source for independent mobile phone, tablet, sat nav, laptop, iPad, iPod and games console recycling price comparison. It delivers customers confidence in making the difficult decision of where to recycle their old phone safely and for the most money. CompareMyMobile is 100% impartial, comparing prices from more than 40 recycling stores.
Media Contacts
Ashley Turner
CompareMyMobile.com,
Tel: +44 (0) 7590 116 943
Email: ashley(at)CompareMyMobile(dot)com