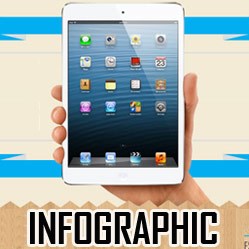 Another manufacturer will have to come up with a very competitive tablet in order to start eating into Apple's tablet market share
Christchurch, Bournemouth (PRWEB UK) 17 July 2013
See our page of hi-res data infographics here.

Apple holds a whopping 75.6% of the tablet trade-in market
ASUS is number one top tablet brand losing value
Apple's iPad 4 12GB WiFi 4G is most valuable tablet at £360*
Leading mobile phone and gadget recycling comparison site CompareMyMobile.com has revealed that Apple is dominating the tablet trade-in market – with iPad models making up 75.6% of all traded-in tablets. The site say that Apple have held this huge percentage of the tablet trade-in market ever since 2010 – reflecting the huge popularity of iPad models over the past three years.
Apple's iPad 2 WiFi 16GB is currently the top tablet being traded-in, closely followed by last year's release the iPad Mini 16GB WiFi, with Samsung taking the last top three spot as the third most traded-in device.
Trade-in share of top tablets being traded in:
1. Apple iPad 2 WiFi 16GB – 9.5% of the trade-in market
2. Apple iPad Mini 16GB WiFi – 8.1% of the trade-in market
3. Samsung Galaxy Tab 2 10.1 – 7.7% of the trade-in market
Apple devices also have the top recycle values on the site according to CompareMyMobile, perhaps suggesting why they are such a popular trade-in. The iPad 4, the most recent full-sized tablet from Apple, holds the highest value at £360.
Most valuable tablets on CompareMyMobile:
1. Apple iPad 4 128GB WiFi 4G - £360*
2. Apple iPad 3 64GB WiFi 4G - £345*
3. Apple iPad 4 128GB WiFi - £327*
*according to CompareMyMobile data compiled on 15/07/2013 – prices on the site are subject to change
Apple's iPad 3 64GB WiFi is third in the list of top tablets losing value on the site – which isn't surprising with the iPad 4 and iPad Mini both being more recent additions to the comparison engine. Amazon's Kindle 3 WiFi is the top tablet device losing value on the site, depreciating by 35% in just three months. That's a bigger value drop than the experts at CompareMyMobile would usually expect within this time period.
Co-founder of CompareMyMobile.com Ashley Turner says, "As new devices are released, the demand recyclers have for the older tablets lowers and often impacts the trade in values. Often they get flooded with the new devices predecessor and can't recycle them quickly enough, forcing them to offer less so they don't get burnt on the value."
Amazon isn't the top brand losing value on the site though, ASUS tops the list of tablet brands – diving by 17.9% in value in the last 90 days. Amazon's Kindle comes in at number two, losing a total value of 7.7% across the brand.
Top tablet brands losing value between April and July 2013:
1. ASUS: 17.6%*
2. Amazon Kindle: 7.7%*
3. Motorola: 5.7%*
4. Apple: 5.6%*
5. Nexus: 4.9%*
Experts at CompareMyMobile predict that Apple will continue to dominate the tablet trade-in market, as it does with the gadget trade-in market share generally – especially with releases such as the iPad 5 expected later this year and the iPad Mini 2 expected by the first quarter of 2014. Another manufacturer will have to come up with a very competitive tablet in order to start eating into Apple's tablet market share in the same way that Samsung is attacking its mobile trade-in share.
About CompareMyMobile
Founded in 2009, CompareMyMobile.com is the UK's #1 source for independent mobile phone, tablet, sat nav, laptop, iPad, iPod and games console recycling price comparison. It delivers customers confidence in making the difficult decision of where to recycle their old phone safely and for the most money. CompareMyMobile.com is 100% impartial, comparing prices from more than 40 recycling stores.
Please visit CompareMyMobile and our press page for more details.