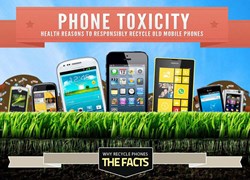 Many handsets going through our site are either reused, or head off to recyclers where they undergo treatment in specialised and environmentally sound recycling processes.
Christchurch, Bournemouth (PRWEB UK) 28 August 2013
- £6.86 billion worth of unused mobile phones are in the UK

Infographic shows toxic effects on human organs
Apple iPhone 2G has highest toxicity level
140 million mobile phones will end up in landfill this year, according to leading gadget recycling comparison website CompareMyMobile, but what does this really mean for consumers? The site has put together an infographic warning about the toxic materials inside mobile phones, and the health issues they can cause, to raise awareness of why recycling old electronics is quite so important.
Research shows that 80,000 pounds of lead leaks into the earth because of electronics that have not been properly disposed of – and this is not the only harmful chemical inside mobile phones. Mercury, Lead, Cadmium, Brominated Flame Retardants, Bromine and Zinc are just some of the other materials which have the potential to cause health issues in humans.
For example Cadmium, a toxic chemical found in the battery of many electronic devices, can be particularly harmful. It is known that just one battery can contaminate up to 60,000 litres of water – water which humans could then go on to use. The site's infographic shows how Cadmium has been linked to conditions such as the weakening of bones, and is also a known carcinogen with strong links to lung cancer.
This is just one of the reasons CompareMyMobile.com believe it is so vital for gadgets, such as mobile phones, to be recycled in the right way.
Co-founder of CompareMyMobile.com, Ashley Turner, says: "Many handsets going through our site are either reused, or head off to recyclers where they undergo treatment in specialised and environmentally sound recycling processes. CompareMyMobile has kept almost £50 million worth of mobile phones out of landfills since 2009, but this is a tiny dent in a much bigger problem."
The infographic also shows the five best and worst rated mobile phones in terms of toxicity level, and how harmful they are to the environment. Research from HealthyStuff.org rated the Motorola Citrus as the least toxic mobile device, while Apple's iPhone 2G came in with the highest toxicity.
However, it seems clear that manufacturers are becoming aware of the toxicity levels of their phones, as Apple's iPhone 5 was actually the fifth least toxic device on the list of phones.
The site also says that toxic chemicals are not the only parts of old electronics wrongly being sent to landfill. It is thought that the 140 million handsets in landfill equate to 4.7 tonnes of gold worth £35 million, and 49 tonnes of silver worth £5.36 million. These materials could go on to be recycled and reused if consumers recycle their old devices with WEEE accredited, responsible companies.
Responsible recyclers will ensure that electronics do not end up in the following environments:
Landfill
Incineration
Backyard recycling
'Fake recycling' where final destinations are not checked – like smelters which are not capable of recycling electronics in an environmentally friendly way
The companies are able to do this as there are legitimate, efficient and environmentally friendly ways to deal with these materials. For example, there are battery removal facilities capable of removing Nickel and Copper before safely recycling the remains. Or specialised environments capable of safely, mechanically separating components or using smelters with off gas purification for ultimate control of toxic materials.
CompareMyMobile hope that by raising awareness of the health hazards associated with these toxic materials and how to properly dispose of them – consumers will be encouraged to responsibly recycle old electronics, to avoid harmful waste ending up the wrong hands.
About CompareMyMobile
Founded in 2009, CompareMyMobile.com is the UK's #1 source for independent mobile phone, tablet, sat nav, laptop, iPad, iPod and games console recycling price comparison. It delivers customers confidence in making the difficult decision of where to recycle their old phone safely and for the most money. CompareMyMobile.com is 100 percent impartial, comparing prices from more than 40 recycling stores.
Please visit our website, press page or follow our RSS feed for more stories like this.