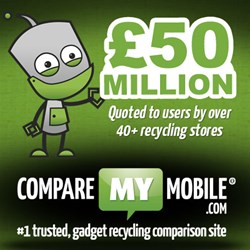 We owe our success and achievements to our focus on delivering the consumer exactly what they require to ensure their recycling experience is as fluid as possible
Christchurch, Dorset (PRWEB UK) 28 November 2013
- Brits have been quoted over 50 million GBP/80 million USD through CompareMyMobile since 2009*

Consumers have potentially saved an extra 20 million GBP/30 million USD by comparing prices on CompareMyMobile**
The site compares prices from over 40+ recycling companies in the UK, including names such as Mazuma Mobile, Envirofone and EE Recycle and Reward
Consumers using the UK's number one trusted mobile phone and gadget recycling comparison site CompareMyMobile, have potentially earned over 50 million GBP since the site launched back in 2009. As the site passes its four year anniversary, CompareMyMobile reveal they have quoted a total of this amount to consumers, who may have also earned an extra 20 million GBP after comparing the lowest and highest prices quoted for handsets on the site.**
Over 40 UK recycling vendors are listed on CompareMyMobile, which now compares 105,062 prices for 4,097 devices. When it was first launched, the site listed 13,402 prices and 1,399 devices – but CompareMyMobile say they knew this needed to grow, due to an estimated to be 682 million GBP worth of unused phones in the UK.
Co-Founder of the site, Ashley Turner, says: "We owe our success and achievements to our focus on delivering the consumer exactly what they require to ensure their recycling experience is as fluid as possible. On average consumers can earn 43% extra between the top and bottom prices offered and our direct order relationships mean that we are the only recycle comparison site to offer real, verified consumer reviews for a 100% impartial comparison."
Experts say that the size of the website isn't the only aspect that's changed in the four years they've been running CompareMyMobile. Despite Apple still dominating the gadget trade-in market - making up almost 30 percent of the trade-in market share altogether – Samsung has seen an increase which has knocked both BlackBerry and Nokia off the trade-in market top spots.
Top 5 Brands Trade-in Market Share Percentage:
Apple – 29.4 percent
Samsung – 21 percent
BlackBerry - 11.9 percent
HTC – 6.6 percent
Nokia – 6.4 percent
Samsung's trade-in market share percentage has doubled to 21 percent following the release of its Galaxy range – with flagship devices such as the Galaxy Note 3 and Galaxy S4 causing a large spike in trade-ins. In fact, the Samsung Galaxy S4 announcement in March caused a 127 percent surge in valuations on CompareMyMobile.
The struggles of Nokia and BlackBerry, since the increase in smartphone competition, has also been fairly obvious on the site – Nokia's trade-in market share has dropped from 23 percent in 2009 to just 6.4 percent today.
Average re-sale pricing of handsets has seen a rise on the site, perhaps one of the reasons CompareMyMobile has been able to earn consumers quite so much money within four years. The site say they are dedicated to finding the best prices from the most trustworthy UK recyclers for consumers.
The Average Price of a Recycled Phone since 2009:
2009 – £51 ($77.16)
2010 - £64 ($96.69)
2011 – £87 ($132.62)
2012 – £114 ($172.23)
2013 – £108 ($165.83)
Founders of the site say they are determined to continue in their mission to provide users with a truly transparent, reliable comparison site which pays attention to previous consumer experience and live pricing. CompareMyMobile aim to send customers away with more cash in their pocket, while also helping to make a significant difference to e-waste in the UK.
Notes for editors:
Founded in 2009, CompareMyMobile is the UK's #1 source for independent mobile phone, tablet, sat nav, laptop, iPad, iPod and games console recycling price comparison. It delivers customers confidence in making the difficult decision of where to recycle their old phone safely and for the most money. CompareMyMobile is 100% impartial, comparing prices from more than 40 recycling stores.
*CompareMyMobile has quoted a total of 51 million GBP to UK consumers at the time of publication – live pricing is available on CompareMyMobile
**Figures were calculated by working out the difference between the lowest and highest price quoted to consumers from the recycle stores listed on the site