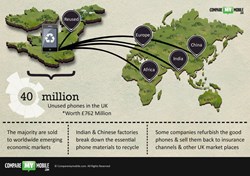 Just over half of the UK population are actually aware that they can recycle their old mobile phones.
Christchurch, Bournemouth (PRWEB UK) 23 August 2013
- Results for leading recyclers like Envirofone and Money4Machines

Many old mobile phones get a second life in developing countries
Smartphones can be re-introduced into the UK market
Just over half of the UK population are actually aware that they can recycle their old mobile phones – a statistic that just is not good enough in the eyes of number one trusted gadget recycling comparison site, CompareMyMobile.com.
The site aims to raise as much awareness as possible around the subject of electronic recycling, to prevent toxic materials that lay inside them such as Cadmium, Lead and Brominated Flame Retardants from polluting the environment. CompareMyMobile say this is vital, as some are proven to have harmful effects on human health.
There are a number of different ways a mobile phone, or any other electronic, can be recycled or reused both inside and outside of the UK. Reliable recycling companies will often refurbish a device back to its original condition to be resold into the UK market or into emerging markets around the world.
Mobile phones which are too damaged for re-use can have the valuable parts taken off and sold on. For example, batteries can be taken out of phones and sent to accredited recyclers to be processed for materials such as Nickel, which can be used for the production of stainless steel.
Various other materials from a mobile phone can be broken down to be recycled as well. Circuit boards often contain elements such as Silver, Copper and Gold which can be extracted and go on and be used in new technologies – perhaps even giving new life to previously broken devices.
With this in mind, CompareMyMobile grilled leading recyclers on what happens to mobile phones sent in to their premises, receiving replies from top companies such as Envirofone, Money4Machines and Mobile Cash Mate.
The site found that the majority of mobile phone recyclers refurbish phones so they can go on to be used in the UK or in emerging markets in developing countries – creating widespread communication where there may not have been before.
CompareMyMobile hopes that research like this will give consumers a more transparent view into the gadget recycling industry, to show the true benefits of recycling old mobile phones.
Click here to see the full replies from the recyclers: http://blog.comparemymobile.com/what-happens-to-phones-when-recycled/.
About CompareMyMobile
Founded in 2009, CompareMyMobile.com is the UK's #1 source for independent mobile phone, tablet, sat nav, laptop, iPad, iPod and games console recycling price comparison. It delivers customers confidence in making the difficult decision of where to recycle their old phone safely and for the most money. CompareMyMobile.com is 100 percent impartial, comparing prices from more than 40 recycling stores.
Please visit our website, press page or follow out RSS feed for more stories like this.