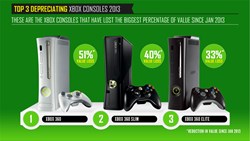 Using online solutions like CEX, Game and CompareMyMobile.com, consumers can trade in their old consoles for reasonable cash.
Christchurch, Dorset (PRWEB UK) 27 November 2013
Key points from new CompareMyMobile research:

Mystery shop shows full comparison of console values on UK trade-in market
Xbox 360 sees 51 percent value loss in 2013
Xbox 360 250GB most valuable console at 65 GBP/105 USD
According to new research from gadget trade-in comparison specialists CompareMyMobile, following the release of the Microsoft's next-gen console, the Xbox 360 is the Xbox losing value most quickly on the site, with a 51 percent drop in value since January 2013.
The 360 makes up around 48 percent of all Xbox trade-ins on the comparison engine, followed by the Xbox 360 Elite and Xbox 360 Slim respectively.
Xbox Console Trade-in Market Share:
1. Xbox 360 - 48 percent
2. Xbox 360 Elite – 27 percent
3. Xbox 360 Slim – 25 percent
CompareMyMobile say that it's actually the Xbox 360 250GB Slim which is the most valuable model on the re-sale market.
Top 3 Valuable Xbox Consoles 2013:
1. Xbox 360 250GB Slim – 65 GBP/105 USD*
2. Xbox 360 250GB Elite – 35 GBP/56 USD*
3. Xbox 360 120GB Elite – 30 GBP/49*
*Highest trade-ins values from high street and online stores
CompareMyMobile previously reported that games console trade-in values saw a huge rise of 18.79 percent following the reveal of the Xbox One – which was extremely unusual activity for the site.
Founders say that UK recycling companies put the prices up to encourage users to trade-in old electronics – which is especially important around the release of a device like a new games console, as they are one of the least traded-in technology categories on the site.
Top five technology categories being traded-in:
1. Mobile Phones – 82.51 percent
2. iPads – 8.21 percent
3. iPods – 5.99 percent
4. Other Tablets – 2.50 percent
5. Games Consoles - 0.25 percent
Following a survey by Asda and Omnibus Polling that suggests there are over 12 million unused consoles sitting around the UK, CompareMyMobile felt they needed to raise awareness of consumer opportunities to get cash for an old gadget as well as the need to keep old electronics out of landfill. Research shows that only around 10 percent of the world's electronics are actually properly disposed of, a figure which CompareMyMobile hope to see rise.
Co-Founder of the site Ashley Turner says, "If people don't trade-in their old consoles, the value of them will become so little - chances are they'll end up in landfills contributing to e-waste problems. Using online solutions like CEX, Game and CompareMyMobile.com, consumers can trade in their old consoles for reasonable cash. With a little extra effort, using auction and listing sites like eBay, Gumtree and Craigslist can get consumers the maximum value for their old devices."
About CompareMyMobile.com
Founded in 2009, CompareMyMobile.com is the UK's #1 source for independent mobile phone, tablet, sat nav, laptop, iPad, iPod and games console recycling price comparison. It delivers customers confidence in making the difficult decision of where to recycle their old phone safely and for the most money. CompareMyMobile.com is 100 percent impartial, comparing prices from more than 40 recycling stores. See attached about CompareMyMobile document for more information on the company.
Please visit our website, press page or follow our RSS feed for more stories like this.