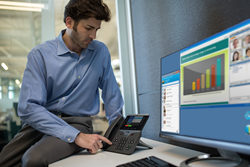 Funding is available in many states for Workforce Development Programs
Henderson, NV (PRWEB) July 16, 2014
Compass Business Solutions, the leading global provider of visual communications training, has launched an Assistance Program to help customers obtain funds for training.
It can take three to five years to fully train a seasoned professional and make him or her wholly productive. This is an expensive proposition for companies. In fact, spending on corporate training has grown to over $70 Billion annually in the US and over $130 Billion worldwide.
"Funding is available in many states for Workforce Development Programs," stated Jules Trono, President and CEO of Compass Business Solutions. "The challenge for our customers is understanding how to apply for funds and obtain the reimbursements. We have launched a Financial Aid program to do just that." State and federal Workforce Development Programs award millions of dollars each year to companies to help them fund their employee training.
"These programs are economic development tools to retain and grow jobs," said Donna Wyvill, Content Development Manager for Compass. "Our program, which has no up-front costs, can help cover up to 50% or more of eligible training costs, including courses outside of the Compass curriculum."
Companies or students interested in learning more about Compass' training programs in the US and globally can visit http://www.compassprogram.com, and can contact Lisa Santiago at +1 (760) 688-4045 or +1 (877) 234-0635 for more information.
About Compass Business Solutions
Compass, the largest global provider of visual communications and videoconferencing product line training, provides a one-stop resource for sales, technical and end-user training.
Compass Business Solutions is a learning company focused on helping people use and support video, unified communication and other technologies to improve their business. Training sessions follow a best practices approach to optimize all aspects of technology usage and support. Compass was founded in 2008 by communication industry professionals who have been working with telecommunication and video technologies since 1989 and who helped launch Tandberg University in the USA in 2006, then becoming Cisco's first authorized TelePresence Specialist Learning Partner in the US.
Compass is a certified WBE/WOSB.