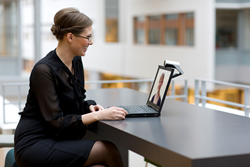 executives and managers believe they need 20% more productivity from their employees in order to meet company goals
Henderson, NV (PRWEB) February 09, 2015
Compass Business Solutions, will be at Integrated Systems Europe (ISE) in Amsterdam this week. As the Internet of Things (IoT) grows with 80 billion devices connected to the Internet by the year 2020, according to Frost & Sullivan, the need for integrators to simplify the user interaction with communication technologies continues to grow. Companies are investing in both technical and user training for integrated technologies to retain their competitive advantages and enable employee productivity. Compass is the leading global provider of training for Cisco's visual communication technologies and has expanded training availability to European markets both through in-country partnerships as well as through live virtual training events.
"Companies expect employees to become more and more capable and self-sufficient. They expect that employees will keep pace with technology advancements," stated Jules Trono, President & CEO of Compass Business Solutions. "According to a report called "The Future of Corporate IT" by the Corporate Executive Board, executives and managers believe they need 20% more productivity from their employees in order to meet company goals. That is why they continue to invest in technologies and training that contribute to employee productivity." Compass is the only learning provider that updates their visual communications classes multiple times each year to stay current with products and software releases.
"People want the same ease of use when using any device to communicate," said Donna Wyvill, Content Development Manager for Compass. "Whether it is a smartphone, laptop, tablet, videoconferencing room system or desktop telephone, it cannot be complicated or they will not use it. Technology Integrators are the key to keeping it simple in the workplace." Communication solutions that allow a person to choose their device and then communicate using any combination of audio, video, or sharing of documents and data, assist with increasing employee productivity. Compass helps people learn how to use communication tools to accomplish their business goals.
Companies or students interested in learning more about Compass' training programs in the US and globally can visit http://www.compassprogram.com, and can contact Lisa Santiago at +1 (760) 688-4045 or +1 (877) 234-0635 for more information.
About Compass Business Solutions
Compass, the largest global provider of visual communications and videoconferencing product line training, provides a one-stop resource for sales, technical and end-user training.
Compass Business Solutions is a learning company focused on helping people use and support video, unified communication and other technologies to improve their business. Training sessions follow a best practices approach to optimize all aspects of technology usage and support. Compass was founded in 2008 by communication industry professionals who have been working with telecommunication and video technologies since 1989 and who helped launch Tandberg University in the USA in 2006, then becoming Cisco's first authorized TelePresence Specialist Learning Partner in the US.
Compass is a certified WBE/WOSB.