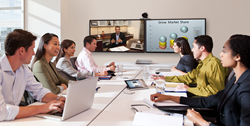 Bringing video, voice and data together into a common interface requires not just the ability to unify the information, but also the best practices and processes that go along with addressing the security concerns
Henderson, NV (PRWEB) February 10, 2015
Compass Business Solutions, will be at the Western Conference and Exposition (WEST 2015) sponsored by AFCEA International and the US Naval Institute in San Diego this week. With businesses realizing less than half of technology's potential benefits according to industry analysts, the need to unify communication technologies continues to grow. The investment in both technical and user training remains a key contributor to the ability to realize the full benefits of technology investments. Compass is the leading global provider of training for Cisco's visual communication technologies and makes the training available to US military and government personnel at their facilities worldwide as well as through live virtual training events.
"Communication within military and government networks is very challenging due to network security requirements," stated Jules Trono, President & CEO of Compass Business Solutions. "Bringing video, voice and data together into a common interface requires not just the ability to unify the information, but also the best practices and processes that go along with addressing the security concerns. That is why the continued investment in user and technical training is so important to this group." Compass is the only learning provider that updates their visual communications classes multiple times each year to stay current with products and software releases.
"The need to share information quickly is so important for this group," said Diane Hicks, Global Accounts Manager for Compass. "Timeliness of information is critical and cannot be delayed while people try to interpret telephone or video system interfaces. Calls have to connect every time." Communication solutions are transitioning to those that allow a person to choose their device, and then communicate using any combination of audio, video, or sharing of documents and data. Compass helps people learn how to use communication tools to connect anytime, anywhere.
Companies or students interested in learning more about Compass' training programs in the US and globally can visit http://www.compassprogram.com, and can contact Lisa Santiago at +1 (760) 688-4045 or +1 (877) 234-0635 for more information.
About Compass Business Solutions
Compass, the largest global provider of visual communications and videoconferencing product line training, provides a one-stop resource for sales, technical and end-user training.
Compass Business Solutions is a learning company focused on helping people use and support video, unified communication and other technologies to improve their business. Training sessions follow a best practices approach to optimize all aspects of technology usage and support. Compass was founded in 2008 by communication industry professionals who have been working with telecommunication and video technologies since 1989 and who helped launch Tandberg University in the USA in 2006, then becoming Cisco's first authorized TelePresence Specialist Learning Partner in the US.
Compass is a certified WBE/WOSB.