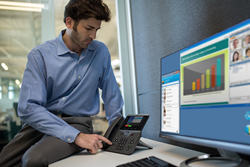 An Outcome Based Selling approach helps the customer select a seller that can be a value-added partner who truly understands what needs to be accomplished
Henderson, NV (PRWEB) April 28, 2015
Compass Business Solutions offers sales, technical and end-user training for videoconferencing and unified collaboration. Today Compass announced that it is expanding its collaboration training curriculum to include Business Outcome Selling for Collaboration.
"Solution selling has always been relevant," said Jules Trono, President of Compass Business Solutions. "Whether monetary value, competitive advantage or productivity impact, technology purchases are always about increased revenue and/or reduced costs. Demonstrating an understanding of the business impact of a collaboration solution gives a seller the best chance of a long and successful relationship with his customer." Compass is the largest learning provider focused on unified collaboration and telepresence training globally.
"It is easy enough to talk about return-on-investment with a potential customer," stated Diane Hicks, Global Accounts Manager with Compass. "But that return-on-investment has to be tied to a customer's real business need and not to some generic scenario. An Outcome Based Selling approach helps the customer select a seller that can be a value-added partner who truly understands what needs to be accomplished."
Students or companies interested in learning more about Compass' training programs can visit Compass Business Solutions, and can contact Lisa Santiago at +1 (760) 688-4045 or +1 (877) 234-0635 for more information.
About Compass Business Solutions
Compass, the largest global provider of visual communications and videoconferencing product line training, provides a one-stop resource for sales, technical and end-user training.
Compass Business Solutions is a learning company focused on helping people use and support video, unified communication and other technologies to improve their business. Training sessions follow a best practices approach to optimize all aspects of technology usage and support. Compass was founded in 2008 by communication industry professionals who have been working with telecommunication and video technologies since 1989 and who helped launch Tandberg University in the USA in 2006, then becoming Cisco's first authorized TelePresence Specialist Learning Partner in the US.
Compass is a certified WBE/WOSB.