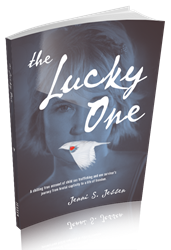 "To shatter a child's innocence and hold them captive to the lusts of men is the most insidious form of child abuse." said Jessen. "Together, we must break the silence that allows this injustice to continue."
Colorado Springs, CO (PRWEB) July 20, 2016
At an age when learning to tie her shoes should have been her biggest challenge, author Jenni Jessen shares in her gripping new book how her grandfather sold her for sex for the first time.
As chronicled in "The Lucky One: A Chilling True Account of Child Sex Trafficking and One Survivor's Journey from Brutal Captivity to a Life of Freedom", Jessen shares how a man who should have loved and protected her – instead, repeatedly assaulted her and bartered her body to others for power and profit during 13 agonizing years.
"To shatter a child's innocence and hold them captive to the lusts of men is the most insidious form of child abuse." said Jessen. "Together, we must break the silence that allows this injustice to continue."
As a survivor of human trafficking, Jessen explains how she endured those years of violent exploitation as a child growing up, and coming of age, in the sex trade.
Her perpetrators came from all walks of life - an engineer, a police officer, a bait shop owner, businessmen, farmers, young men and old.
In second grade, Jessen recounts sitting in church on a Sunday morning swinging her feet from a wooden pew - behind the man who had paid to rape her the night before.
By all outward appearances, she had a normal childhood in southern Missouri. But, like most child abuse victims, Jenni hid a horrific secret. A secret she wouldn't dare utter for many years.
Her story exposes the horrors of sexual exploitation and the deceptions that keep victims from crying out for help or running for freedom. It's a child trafficking story repeated on every continent in every corner of the world[1] and has grown to be a $150 billion dollar industry[2].
Every 26 seconds a child is sold into slavery [3]. Many victims are runaway girls who were sexually abused as children. Jessen courageously shares her child abuse stories of survival, restoration, and the redeeming power of true freedom in "The Lucky One" - and she dares others to get involved in the fight to stop human trafficking.
As a leader in the fight to stop human trafficking, Jessen and her husband founded Compass 31, an international organization based in SE Asia.
"My trauma was hidden behind white picket fences and the church steeples of suburban America but in SE Asia, it confronts you everywhere you go. With my personal background, my husband and I knew that at some point, I would lend my voice to the voiceless and we would dedicate our lives to fighting for those who are trapped in exploitation," said Jessen.
While the Jessens provide foster care to teenage mothers and babies rescued from the sex trade, their organization battles commercial sexual exploitation globally through focused efforts in both human trafficking prevention and restoration.
Jenni Jessen is also the co-creator of Priceless Cube, a visual story tool being used in 40 countries to stop human trafficking.
Her newly released book, "The Lucky One" is available on Amazon.com in both print and Kindle versions.
---
1. US Department of State, Trafficking in Persons Report, 2015, http://www.state.gov/j/tip/rls/tiprpt/
2. International Labour Organization, http://www.ilo.org/global/about-the-ilo/newsroom/news/WCMS_243201/lang--en/index.htm
3. Unicef, Child Trafficking, 2011, http://www.unicef.org/protection/57929_58005.html