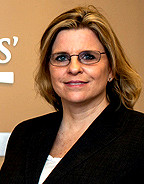 It is always an honor to be recognized for your work, but even more so, when it comes from your peers.
Richmond, VA (PRWEB) April 09, 2015
Super Lawyers is a rating service of outstanding lawyers, who are among the top lawyers in their fields. The selection process includes independent research, peer nominations and peer evaluations. Michele Lewane has been selected to be included in this prestigious list for the state of Virginia for 2015. "It is always an honor to be recognized for your work, but even more so, when it comes from your peers," said Michele.
Michele Lewane is the founder of Injured Workers Law Firm, who solely handles workers' compensation claims. They represent workers from all over Virginia, who have been injured while on the job and who need assistance getting benefits from their claim. They have helped hundreds of people regain their life, by fighting and being an advocate for claimants to either get the benefits they deserve through the workers' compensation insurance carrier, or by settling their claim.
Michele has also been rated regularly with the top rating on AVVO, a national lawyer rating service. In addition, the law firm is a member of Workers' Injury Law & Advocacy Group (WILG), a national non-profit membership organization dedicated to representing the interests of millions of workers and their families who, each year, suffer the consequences of workplace injuries and illnesses.
Attorney Michele Lewane's book, Ultimate Guide to Workers' Compensation in Virginia recently celebrated its fifth year, with over 5000 free copies given out to injured workers, thus far. The book can be requested by phone or from their website. For more information, go to injuredworkerslawfirm.com or call (804) 755-7755. The office is located at 7826 Shrader Road, Richmond, Virginia 23294.
About Injured Workers Law Firm
Injured Workers Law Firm only handles Virginia workers' compensation cases, solely concentrating on cases involving injuries acquired in Virginia that occur while one is on the clock and performing official job duties, as well as severe injuries, such as death or paralysis, that may occur in a factory setting or a construction site.
PR Contact: Tiffani Tendell
ttendell(at)thenala(dot)com
805.650.6121, ext. 361