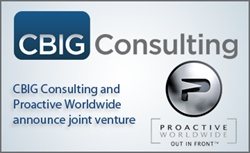 Chicago, IL (PRWEB) May 27, 2015
International business intelligence leader CBIG Consulting and market and competitive intelligence (CI) specialist Proactive Worldwide (Proactive) have announced a joint venture that merges each firm's unique strengths to create a comprehensive Intelligence service. The service provides clients with holistic insights from internal and external comparative data analytics and ongoing service and support.
Complementing Proactive's "Get Out in Front®" market and competitive intelligence decision support expertise with CBIG Consulting's "Stay Out in Front™" Competitive Intelligence service offering, this joint venture combines primary source market insights within a sustainable, ongoing competitive intelligence solution platform. CBIG Principal and spokesperson John Onder stressed, "We knew, from our previous work with Proactive, that combining our talents would be leading-edge potential. Our joint Competitive Intelligence service module has it all in terms of evaluating strategy, processes, research, benchmarking, internal marketing data, technology and managed services to maintain a client's competitive edge over the long haul."
Onder said the goal of the joint "Get Out in Front® and Stay Out in Front™" service was developed to integrate Proactive's research and primary-research based competitive benchmarking metrics with real-time pertinent data, best-in-class architectures, and ongoing support to take a more fact-based measure of an enterprise's market position vs. its competition, and then provide a more valuable, data-driven roadmap for future success. Gary Maag, CEO of Proactive added, "The biggest breakthrough involved documenting and comparing and contrasting the decisions that competitors were making, and then transforming that knowledge with other data into higher profits and greater returns for our shared clients' initiatives from their initial CI investment."
About CBIG Consulting
CBIG Consulting is an international team of experts in Business Intelligence, Big Data Analytics, Data Warehousing, and Cloud-based Analytics platforms. Named a top BI and Big Data consulting firm by independent research organizations and publications, CBIG's analytics consultants average fifteen years of direct experience in the field. CBIG works with global enterprises, mid-size businesses, and non-profit organizations in solving mission-critical reporting and analytical needs. CBIG is headquartered in the Chicago area and has additional offices in San Francisco, Boston, Denver, Austin, Raleigh, and Seattle in the U.S.; Sydney, Auckland and Singapore serving the Asia-Pacific region; and London serving the United Kingdom. For more information, please visit http://www.cbigconsulting.com.
About Proactive Worldwide
With corporate headquarters just outside Chicago and offices in Shanghai and Rome, Proactive Worldwide, Inc. specializes in customized decision support and competitive intelligence consulting for U.S. and multinational clients. The company is in the business of obtaining primary data, analyzing it, and identifying relevant strategic and tactical steps that clients can take to stay Out in Front® of the competition in developed countries and emerging markets. Its multi-lingual staff has been providing CI services for almost 20 years in life sciences/healthcare, financial services, technology and telecommunications, and consumer and industrial goods. For more information, please contact 847-483-9300 and visit http://www.proactiveworldwide.com.