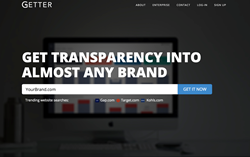 GETTER gives real-time, competitive intelligence that helps companies improve deals and value to their clients, constantly maintaining a competitive edge over the competition, Thomas said.
Milwaukee, WI (PRWEB) December 03, 2015
GETTER, a new artificial intelligence company has built technology currently awaiting patent that allows brands and retailers the ability to track the effectiveness of their digital marketing efforts in real time. This new technology also lets companies know how their competition is doing by accumulating data from the "virtual shoppers" it has created. These profiles, identified as personas, act as an giant army of virtual customers.
Erik Thomas, the company's founder, created his first company when he was 15 years old. Since that time, he has been employed in several software developer, e-commerce and director positions, which eventually led to a job in Boston, Massachusetts. His business savvy earned him many accolades with co-workers.
Co-founder of brassclothing.com, Katie Doyle, who also worked with Thomas said, "Erik is a dual threat. I've yet to find someone as capable with marketing communications who also is an avid coder and someone who truly comprehends digital marketing."
For a monthly fee, GETTER offers retailers a way to understand what's going on online in real time, a task that might otherwise take weeks and result in dated information when finally collected, Thomas said.
The personas created by GETTER would glean the digital sales and online activity in an effort to track purchasing trends, furthering companies' efforts to research profit - generating decisions based on what they have discovered. Thomas continues by claiming "the personas can gather data about how the competitors are communicating, what they are selling, and what market they are attempting to reach.
"They incorporate machine learning, which basically means they teach themselves to reorganize and evolve when presented new information. The thing that sets GETTER's primary technology apart is that the personas have the ability to be useful in a range of areas beyond the field of retail. Thomas believes that GETTER's technology could extend to advertising and customer relations as well as politics and national security.", said Adam Berger, an advisor to Thomas,
GETTER is awaiting a patent for its development of online personas that function according to the traits they have, and this will benefit the company as it moves ahead, claimed Melissa Turczyn, a lawyer from the Madison firm of Michael Best & Friedrich. Turczyn, who works closely with GETTER, said "An investor is constantly concerned with different roadblocks to entry, and from GETTER's angle, having patented technological aspects will make it harder for the competition to find its way into the market."
Finally, there's one convincing quality Thomas has that could prove the most valuable, according to Turczyn. "He's the type of entrepreneur who is not afraid to confront the obstacles placed in his way. He has a 'never say die' attitude that will only help him to plow through those roadblocks."